Apple halts retail orders for MacBook Pros ahead of new models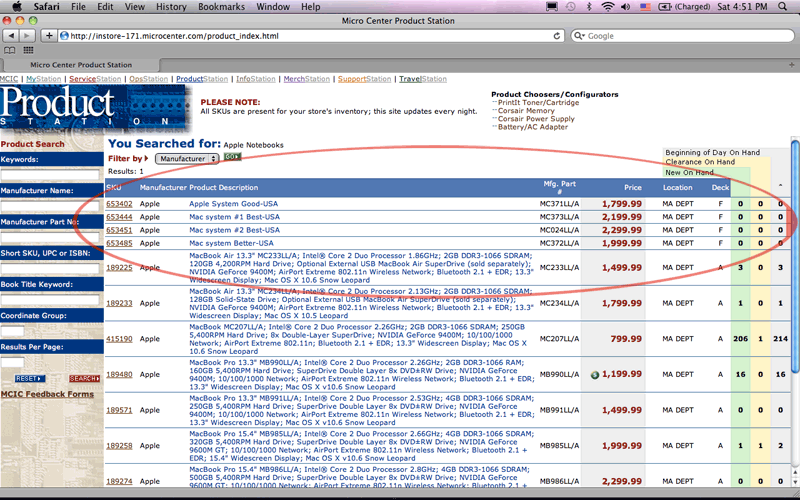 Apple last week instated a stay on new retail orders for MacBook Pros as it prepares to introduce the first significant updates to the professional notebook line in over a year. Meanwhile, AppleInsider has learned of the Mac maker's plans to adopt Intel's lower-spec'd Core i3 series of processors in some of its future offerings.
Over the weekend, several people with ties to Apple's retail and reseller channels passed along word of anomalies regarding inventories of MacBook Pros, specifically:
One person noted that his/her Apple retail store's inventory manager has been prohibited from placing any new orders for MacBook Pros through the company even though the store had run out of models to sell to customers.
Another person noted that his/her Apple retail store had similarly run out of 13- and 17-inch MacBook Pros, which has never happened at that particular store since he/she worked there.
A third person employed at an Apple retail store noted that stock of all three sizes of MacBook Pros were dangerously low as of this weekend. The inventory manager at that store was instructed to make room for a shipment of 16 palettes of Mac merchandise on either Tuesday or Wednesday, which is 4 palettes more Mac merchandize than the store typically stocks in total.
Those reports arrived on the heels of a screenshot posting by a MicroCenter employee to his Reedit page this weekend showing four new Apple SKUs for Mac products in his store's database with price points that match those of Apple's existing 15- and 17-inch MacBook Pros:
Apple System Good-USA MC371LL/A ($1,799.99)

Mac system #1 Best-USA MC373LL/A ($2,199.99)

Mac system #2 Best-USA MC024LL/A ($2,299.99)

Mac system Better-USA MC372LL/A ($1,999.99)
Also, an AppleInsider reader has posted to his blog a list of 11 online Apple stores where MacBook Pros can't be shipped in 24 hours.
Last week, Taiwanese newspaper Apple Daily reported that Apple would update MacBooks, MacBook Pros and MacBook Airs this month. That report was followed by one out of Macworld Australia pegging the date for MacBook Pros as Tuesday, April 13th (tomorrow).
Meanwhile, people familiar with the matter tell AppleInsider that Apple has intended to use Intel's 2.26GHz 350M Core i3 processor for the low end of at least some of its forthcoming Mac models and the Core i7 for some of its extreme or BTO models, employing the Core i5's for the meat of the product refreshes. It wasn't specified, however, whether the models in question were notebooks or iMacs.
A breakdown of the three families of Intel's latest Core chips can be seen here.