Apple retail store sales climb 8% to start 2010, even without new Macs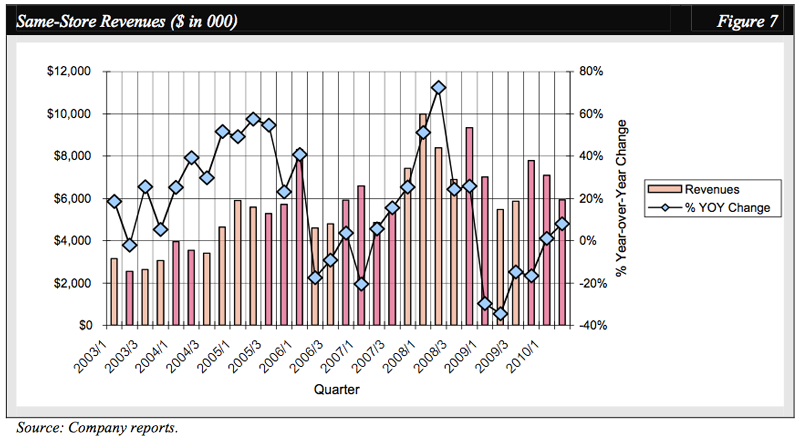 Apple's same-store sales rose 8 percent in the March quarter of 2010, propelled by a 22.3 percent year-over-year increase in Mac sales, even though a MacBook Pro refresh did not arrive during the three-month period.
Highlighting what he has long called the "fourth leg of the stool" for Apple, Needham & Company analyst Charlie Wolf issued a note to investors Wednesday morning highlighting the performance of Apple's retail stores. Wolf noted that the same-store Mac unit sales increase in the March quarter compared to a 19.8 percent year-over-year gain in December, and a 21.9 percent decline in the same period a year ago.
In addition, same-store non-Mac revenues at Apple's retail locations grew 1.2 percent during Apple's second fiscal quarter of 2010, propelled by the strong iPad launch. That year-over-year increase represented the first growth in six quarters.
"One of Apple's initial reasons for opening Apple Stores was to spotlight the Mac, which had virtually no retail visibility," Wolf wrote. "With an installed base that has doubled in the last five years, the Mac is going mainstream with many consumer electronic chains now selling the Mac both here and abroad."
He noted that while Apple's retail locations have become just one of many to buy the company's products, they continue to play a "vital role in building the Apple brand." During Apple's quarterly conference call earlier this month, company executives revealed that half of new Mac sales in retail locations continue to go to Windows switchers.
Same-store revenues also grew in the March quarter, with an overall year-over-year increase of 22.2 percent. Mac revenues were up 31.2 percent, while non-Mac revenues — including software, iPhones, iPods and accessories — increased 14.5 percent.
In all, Apple's retail locations accounted for 12.5 percent of worldwide revenues in March, down from 15.2 percent a year ago. The high came in the second quarter of 2008, when the stores accounted for 21.6 percent of total revenue.