iPhone 4 FaceTime video calls won't use cell minutes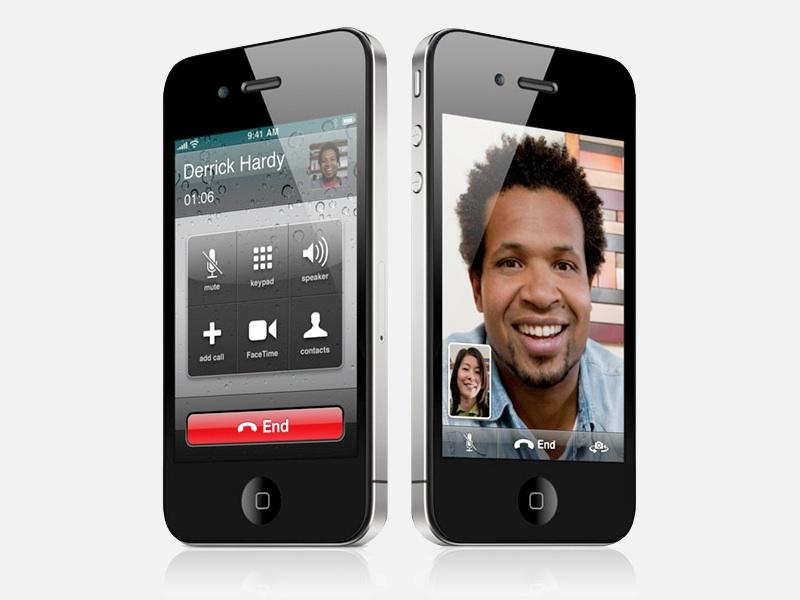 AppleInsider is supported by its audience and may earn commission as an Amazon Associate and affiliate partner on qualifying purchases. These affiliate partnerships do not influence our editorial content.
An Apple representative has clarified that the new FaceTime video calls won't use up carrier minutes, even when a video chat is originated during a phone call.
The news, highlighted report by Dan Frommer of Silicon Alley Insider, means that users won't have to worry about how long they talk when establishing video calls over WiFi.
"The voice call ends as soon as the FaceTime call connects," Frommer wrote. "The FaceTime call is over WiFi so does not use carrier minutes."
That's good news for users with AT&T, as it means FaceTime won't be dependent upon the quality or continuity of a background 3G mobile connection. It's also good news for anyone who feared that the end of unlimited data plans would be lethal to the new FaceTime feature. At WWDC, Apple chief executive Steve Jobs noted that the new feature would initially be WiFi only, but that the company was working with providers to figure out how to accommodate calls over mobile networks in the future.
Dong so would involve some significant engineering issues, because unlike other forms of data that might be okay to send lazily (such as email attachments), video calls demand low latency and high bandwidth to deliver a functional and acceptable level service.
Phone required for FaceTime?
It appears that FaceTime may require a phone number to establish a video call; Apple has only stated so far that users can switch to a video call from a regular conversation (as Jobs demonstrated on stage during the WWDC keynote) or may initiate a FaceTime call from their contacts.
If not, it is very likely, but not yet confirmed, that Apple could also initiate FaceTime calls from a future iPod touch outfitted with an appropriate camera. It's also possible that desktop Macs using iChat could be adapted to support FaceTime, as long as the new standard isn't dependent upon making a phone connection to establish the video call.
Even if the current implementation of FaceTime delivered with iPhone 4 does depend upon a phone call to find the recipient without using a buddy list, it could still be feasible to create non-phone clients that can join FaceTime conversations using an alternative connection initiation method, such as those used by iChat AV (which uses the AIM buddy list, XMPP/Jabber listings, or automatic Bonjour discovery of other users on the local network).
How FaceTime differs from existing cellular video calling
FaceTime differs significantly from existing 3GPP (3G Partnership project, a mobile industry consortium behind such standards as GSM, UMTS and LTE) videophone services both in that it uses WiFi for high quality video (3GPP standards allow for only extremely limited mobile bandwidth, yet are still very expensive per minute) and that it is built upon Internet Engineering Task Force standards rather than mobile industry specifications.
This makes 3GPP video calls comparable to SMS messages rather than IETF standards-based email or instant messaging. Even worse, the mobile industry created 3GPP video calling as a circuit-switched technology that is fundamentally incompatible with packet-switched networks like those used by Internet-connected computers, meaning that a PC-based client can't connect to a phone without specialized phone hardware.
By dropping the mobile carrier's network after establishing a FaceTime session, Apple is pushing phone customers toward open Internet networking, the same way iPhone earlier prioritized free email and attachment messaging in preference to SMS and MMS, which are usually billed as add on services greatly in excess of their true cost in terms of sending their actual data.
Other phones capable of video calls, such as the Android-based HTC Evo sold by Sprint, do not use 3GPP, but rely upon third party software that reviews have found to be difficult to use and problematic.
FaceTime vs. the mobile industry
Apple has said it hopes to establish FaceTime as an open, common standard for making video calls. If it is successful, the effort will transfer the future of potentially lucrative, high bandwidth video calls to common data providers rather than tying video telephony to the domain of phone companies as 3GPP does.
The effort could also revolutionize local communications between employees of a company, or between conference participants, as WiFi networks can be set up by anyone within the largely unrestricted, unregulated spectrum allocated to it. Customers tied to a specific network (such as AT&T) have limited options for increasing the availability and reliability of their mobile network.
Cellular signal boosters and repeaters are difficult to successfully provision, while femtocell devices such as AT&T's MicroCell 3G still use up subscribers' cellular plan minutes because the call minutes and data they handle are forwarded over the Internet back to the provider, which still needs to route the data through its system.
In contrast, FaceTime calls are made directly from one iPhone 4 to another over the Internet, with no centralized phone company needed to route or manage the calls.
Apple began pushing IETF standards-based video calling in 2003 with iChat AV, a desktop application that uses many of the same technologies as FaceTime. Primary competitors to iChat and FaceTime, including Skype, largely use proprietary protocols for establishing Voice over IP and video calls because there are no widely available and well established standards to use.
How soon other smartphone platforms will begin to implement Apple's FaceTime specification remains to be seen, but the company has achieved widespread use of its WebKit browser technology, which now powers the majority of all mobile web browsers, and subsequently solid uptake of HTML5, which includes many technologies originated by Apple, including Canvas drawing and many CSS transform concepts used in web animation.