Apple: don't forget to pick up your iPhone 4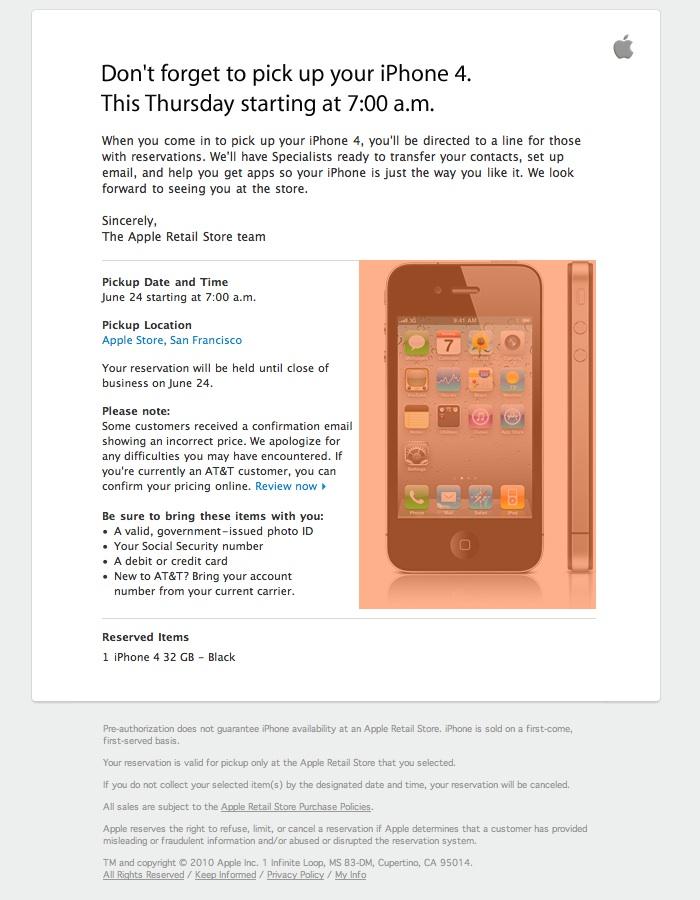 AppleInsider is supported by its audience and may earn commission as an Amazon Associate and affiliate partner on qualifying purchases. These affiliate partnerships do not influence our editorial content.
Customers who reserved iPhone 4 at their nearby Apple retail store received an email reminder today to actually pickup their new phone on Thursday, along with an apology for any pricing issues that might have been involved in the AT&T authorization meltdown last week.
"Don't' forget to pick up your iPhone 4. This Thursday starting at 7:00 a.m," the email says. "When you come in to pick up your iPhone 4, you'll be directed to a line for those with reservations. We'll have Specialists ready to transfer your contacts, set up email, and help you get apps so your iPhone is just the way you like it. We look forward to seeing you at the store."
The reminder links to the location of the selected retail store, and notes that reservations are only valid for pickup at that location. The reservation also notes the opening time of the store and how long a reservation will be held at that location, which for most locations is the close of business on June 24.
"Please note," the reminder says, "some customers received a confirmation email showing an incorrect price. We apologize for any difficulties you may have encountered. If you're currently an AT&T customer, you can confirm your pricing online."
A supplied link allows users to login and verify the subsidy price they will get in on launch day.
"Pre-authorization does not guarantee iPhone availability at an Apple Retail Store," the note adds in smaller type. "iPhone is sold on a first-come, first-served basis.
"Apple reserves the right to refuse, limit, or cancel a reservation if Apple determines that a customer has provided misleading or fraudulent information and/or abused or disrupted the reservation system."