Apple, AT&T iPhone exclusivity lawsuit granted class-action status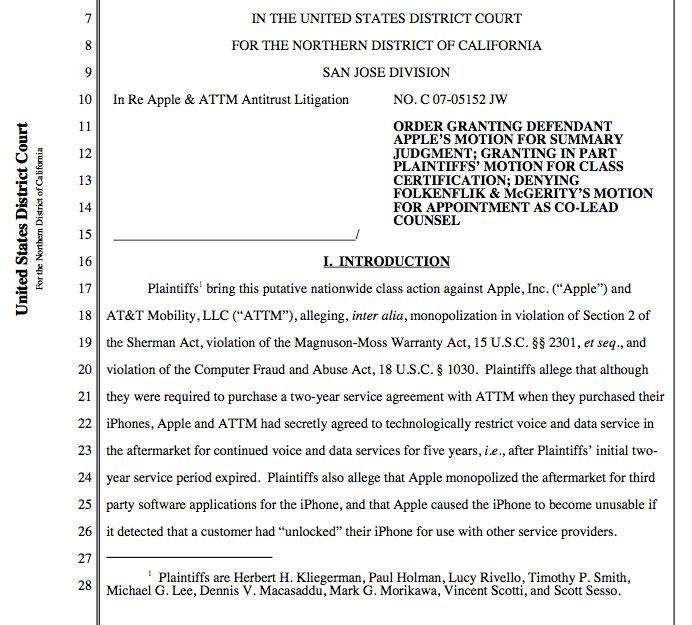 AppleInsider may earn an affiliate commission on purchases made through links on our site.
Anyone who ever bought an iPhone on AT&T is now part of a class-action lawsuit taking aim at both the wireless carrier and Apple for their exclusive contract.
The lawsuit, filed in 2007, accuses both the iPhone maker and AT&T of illegally exerting a monopoly over iPhone customers. It alleges that iPhone users are forced to stay with AT&T after their two-year contract expires, because neither AT&T nor Apple will unlock the iPhone for use on another carrier, such as T-Mobile.
As first reported by Wired.com, this week Judge James Ware of the U.S. District Court in Norther California granted class action certification to the complaint, meaning the plaintiffs now represent anyone who has ever bought an iPhone in the U.S. Mark Rifkin, attorney for the plaintiffs, has argued that AT&T and Apple secretly formed a monopoly with their exclusive iPhone agreement.
"The court has allowed (multiple) plaintiffs to represent 20 million customers who have been forced to use AT&T for iPhone voice and data service," Rifkin reportedly said, "despite an agreement that allows them to terminate at any time and presumably switch carriers."
AT&T, like all U.S. wireless carriers, allows customers to pay an early termination fee and get out of a two-year contract that must be signed in order to purchase an iPhone at a subsidized price. AT&T has been the exclusive carrier of the iPhone since the handset launched in 2007.
In May, Engadget's Nilay Patel dug through old documents in the suit to discover that Apple had revealed in October 2008 that it had initially granted exclusive iPhone distribution rights to AT&T until 2012. While the origianl agreement meant Apple's iPhone could not be offered on a competing carrier's network until 2012, those terms may have changed in the years since. Regardless, the iPhone remains exclusive to AT&T.
Patel write on Friday that it's possible the continuing lawsuit could yield more information on the terms of the private contract between Apple and AT&T.
"While we're definitely curious to see if the plaintiffs can... win something more than a token settlement, we're far more interested to see if they can get any more documentation from Apple nailing down its actual agreement with AT&T," he wrote.