N97 reception video added to Apple's antenna site as Nokia seeks new CEO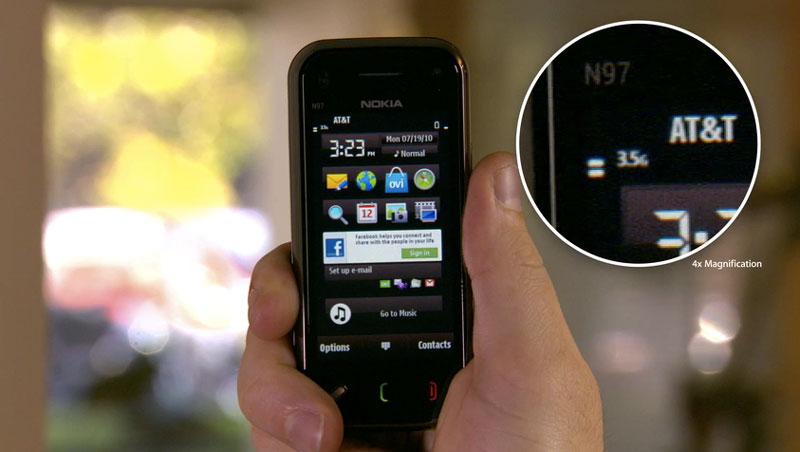 AppleInsider is supported by its audience and may earn commission as an Amazon Associate and affiliate partner on qualifying purchases. These affiliate partnerships do not influence our editorial content.
Apple has added another smartphone to its list of devices that experience reception issues when held improperly, this time showing a Nokia N97 mini losing signal. Nokia, meanwhile, is looking to replace its current CEO as it has fallen behind in the smartphone market.
At its antenna performance page, apple.com/antenna, Apple added the Nokia N97 mini, with photos and videos showing the effects of attenuation on the handset. Holding the device tightly caused the handset to drop from 7 full bars of service, down to just two bars.
The antenna in the Nokia N97 mini is located on its bottom side. Gripping the phone tightly and covering the bottom side caused the signal to drop on the device in a matter of seconds. The calendar on the phone shows that the video was recorded this week, on Monday, July 19.
Nokia, meanwhile, is looking to replace its current chief executive, Olli-Pekka Kallasvuo. Though the Finnish company sells more cell phones than any other manufacturer, it has fallen behind rivals Apple and Research in Motion in the smartphone market.
Nokia had already responded over the weekend to Apple's "antennagate" press conference, portraying itself as "the pioneer in internal antennas." The statement was released even though no Nokia handsets were included among the phones with antenna issues demonstrated by Apple.
"Nokia has invested thousands of man hours in studying human behavior, including how people hold their phones for calls, music playing, web browsing and so on. As you would expect from a company focused on connecting people, we prioritize antenna performance over physical design if they are ever in conflict.
The N97 mini is now shown alongside the other handsets that were already featured on the website: the iPhone 4, BlackBerry Bold 9700, HTC Droid Eris, Samsung Omnia II, and iPhone 3GS. Apple first showed the videos to members of the press at its iPhone 4 press conference last week, where the company announced it would give away free cases to all iPhone 4 owners through Sept. 30. Using a case that prevents users from touching the external metal band on the handset reduces the attenuation effect.
Along with Nokia, Research in Motion, HTC and Samsung all took offense to Apple's remarks, suggesting that the iPhone maker was attempting to drag its competitors into the iPhone 4 antenna saga.