Norway's largest paper: iPhone 4 Antennagate is a US problem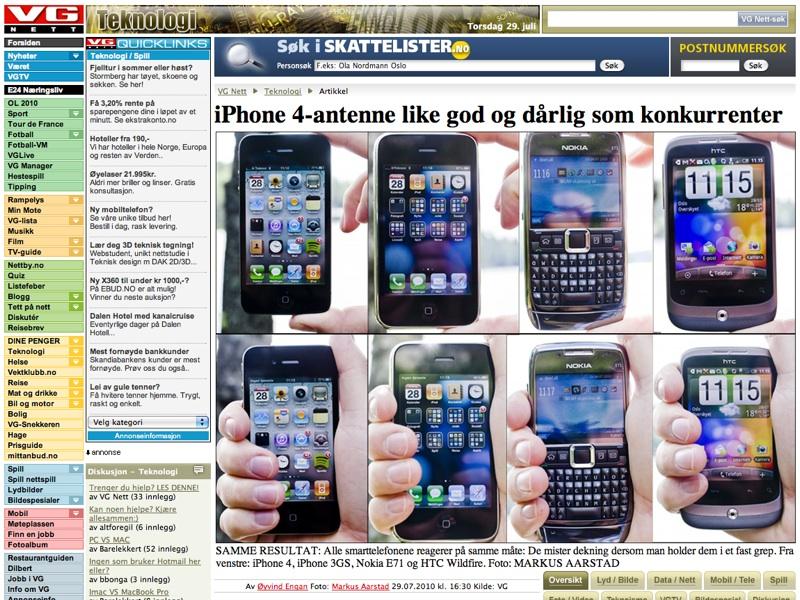 AppleInsider may earn an affiliate commission on purchases made through links on our site.
After testing Apple's iPhone 4 against competing HTC and Nokia models in a remote area on the edge of Norwegian carrier Telenor's mobile coverage, the county's largest paper has concluded that its antenna design is "just as good and bad as competitors," rather than suffering any defect.
A report by Oslo's Verdens Gang, the country's largest online and printed newspaper, forwarded to AppleInsider by reader Torje Øivand Olsen, noted that the brouhaha surrounding "alleged antenna problems" of iPhone 4 was not evident in its own testing conducted in a remote part of the country.
The paper compared iPhone 4 against the HTC Wildfire, Nokia E71, and Apple's previous iPhone 3GS. It stated that all of the phones reacted similarly when gripped tightly (losing signal bars due to attenuation), but that all of the phones were able to sustain a conversation.
Both Nokia and HTC have responded to Antennagate with bold claims that signal drops experienced when a phone is held in a particular way are a problem unique to Apple, while at the same time warning users not to hold their own Nokia or HTC phones in such a way as to cause signal attenuation.
Worse in call quality, better in data service
VG reported that the sound quality on the two iPhone models was not as good, but that all the calls 'went smoothly.' However, when using the phones' data service to pull up a web page, the reporters said only the iPhone 4 'was close to having a stable connection,' successfully pulling up a page while the other models reported no service.
The paper suggested poor mobile networks may be the cause of the US reports of iPhone 4 antenna problems. It cited Amobil, a Norwegian mobile phone news site, as having 'tested the iPhone 4 thoroughly, without finding any evidence that it is improperly constructed. All modern mobile phones have integrated antennas, and it is normal that they are affected by how the phone is held,' VG said.
Amobil writer Finn Jarle Kvalheim added, 'Consumer Reports goes far in asserting that the problems do not have anything to with the mobile network. But it is a fact that mobile networks in Norway are much more robust than AT&T's network in the US.'
Olsen, who helped translate the story for AppleInsider, adds "I have myself tested the iPhone 4 and tried to replicate the signal loss close to one of Norway's major towns without being able to get even one less bar."
Apple will launch the new iPhone 4 in Norway tomorrow, along with Australia, Austria, Belgium, Canada, Denmark, Finland, Hong Kong, Ireland, Italy, Luxembourg, Netherlands, New Zealand, Singapore, Spain, Sweden and Switzerland.