Patent application reveals Apple-designed "smart bike"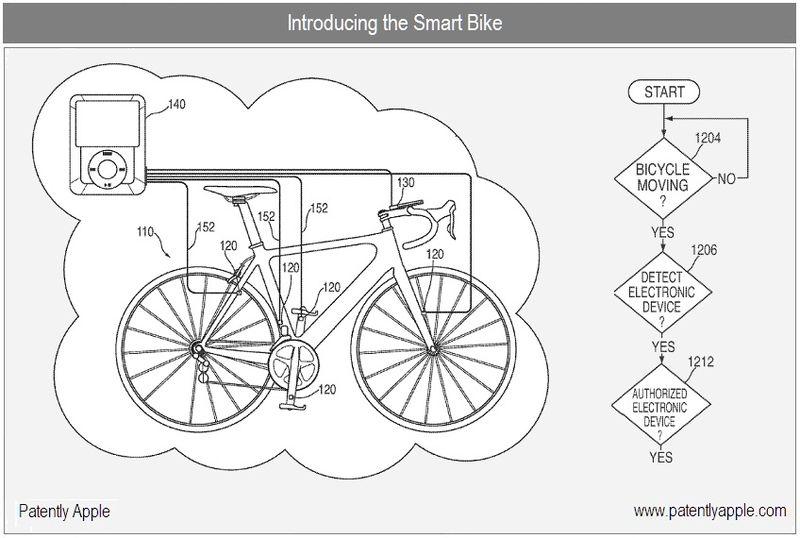 The US Patent & Trademark Office published a patent application Thursday for a "Smart Bicycle System" that would use an iPod or iPhone to monitor sensor data and wirelessly share information.
The patent application, discovered by Patently Apple, contains functionality similar to the Nike + iPod Sport Kit integration for runners. Using external and internal sensors, an iPhone or iPod would store and relay useful information while attached to a bicycle.
Although similar products (bicycle computers) already exist, the Cupertino, Calif., company's solution would take advantage of sensors already built into its devices, such as gyroscopes and accelerometers. Using an iPod or iPhone could potentially reduce costs, setup, and the need for complex attachments. Another added benefit would be the possibility of sharing recorded information with other cyclists.
Some examples of useful measurements are "acceleration, speed, distance, time or intervals of time between events, altitude or elevation of the bicycle, incline/decline during the ride, wind speed, location."
In the application, Apple focused specifically on the potential for wireless communication between devices and bicycles. The patent specifically lists "GPRS, CDMA, EV-DO, EDGE, 3GSM, DECT, IS-136/TDMA, iDen, LTE" as possible methods for sharing data.
External displays are also included in the patent application. In addition to listing several standard display technologies such as LCD and LED, the application lists a number of movable displays or projecting systems, such as "a video projector, head-up display, or three-dimensional (e.g., holographic) display."
Other highlighted features include mapping, automated video and audio recording, course reviews, and team data sharing. The patent application lists buttons on the bicycle or "the user's apparel (e.g., clothing or helmet)" and voice activation as potential input methods.
According to the article, Apple's innovations for cycling enthusiasts could theoretically be applied to other types of vehicles and other modes of transportation.
Jesse Dorogusker, Anthony Fadell, Andrew Hodge, Allen Haughay, Jr., Scott Krueger, James Mason, Donald Novotney, Emily Schubert Policarpo Wood and Timothy Johnston are listed as the inventors. The patent application was filed in Q1 2009.
Anthony Fadell, often referred to as "the grandfather of the iPod," served as senior vice president of Apple's iPod division before stepping down in 2008. Fadell reportedly severed all remaining ties with Apple in March of this year.