Apple's AirPlay to stream photos, video from iPhones to HDTVs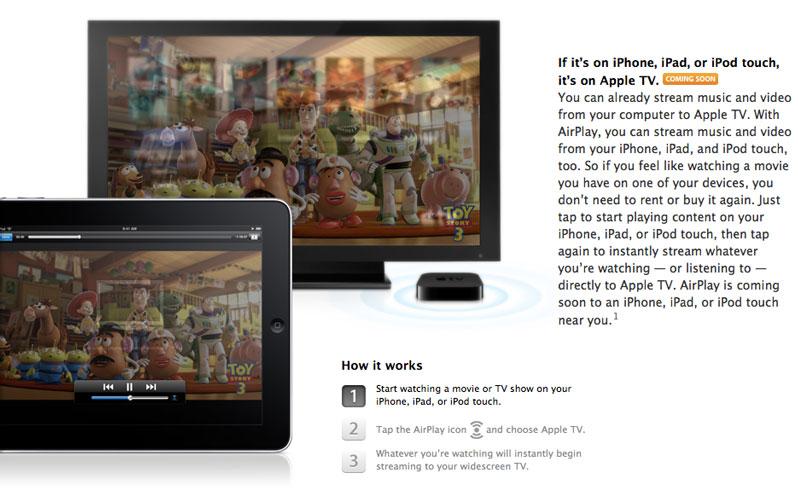 Apple's upgraded wireless media streaming feature, now known as AirPlay, will soon offer video and photo streaming to Apple TV directly from iOS 4.2 devices, and allows users to send music and album art to third-party hardware.
Announced on Wednesday, AirPlay is the improved and rebranded AirTunes, which allows users to stream music from their computer to other locations in their home. Previously, that streaming required an Apple-branded AirPort Express or another computer running iTunes.
With AirPlay, users will be able to stream to speaker docks, AV receivers and stereo systems from companies including Denon and Bowers & Wilkins.
Like with AirTunes, AirPlay allows users to simultaneously stream music to multiple devices in different rooms throughout the house. All of this is done via a computer running iTunes and connected to a network over Wi-Fi or Ethernet.
As before, users can select "Multiple Speakers" in the bottom right corner of iTunes to stream to multiple locations throughout the house. Users can also control the volume for individual AirPlay devices by using the free Remote application for the iPhone and iPod touch.
AirPlay also streams information about music to external devices, including song titles, artists, album names, elapsed and remaining time, and album artwork. AirPlay-enabled speakers with graphical displays can then show this information as a track plays.
In addition to Denon and Bowers & Wilkins, featured partners with AirPlay include Marantz, JBL and iHome.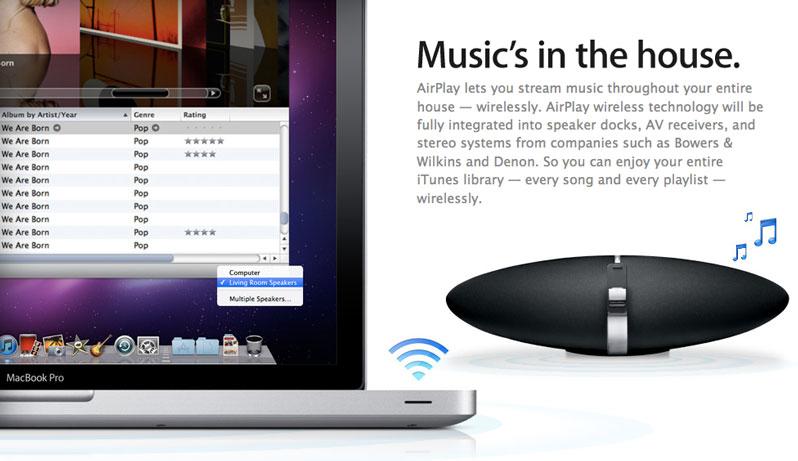 And listed as "coming soon" is the ability to stream music and video from an iOS device to the new Apple TV. During his keynote Wednesday, Apple Chief Executive Steve Jobs demonstrated this by streaming the movie "Up" instantly from an iPad running iOS 4.2 over Wi-Fi. iOS 4.2 is set to ship for the iPad this November; no date was given for the iPhone or iPod touch.
Users can start watching a movie or TV show on their iPhone, iPad or iPod touch, and tap the AirPlay icon in the video. By choosing Apple TV, whatever they are watching will instantly begin streaming to their widescreen TV.