iPod touch represents 38% of iOS devices sold by Apple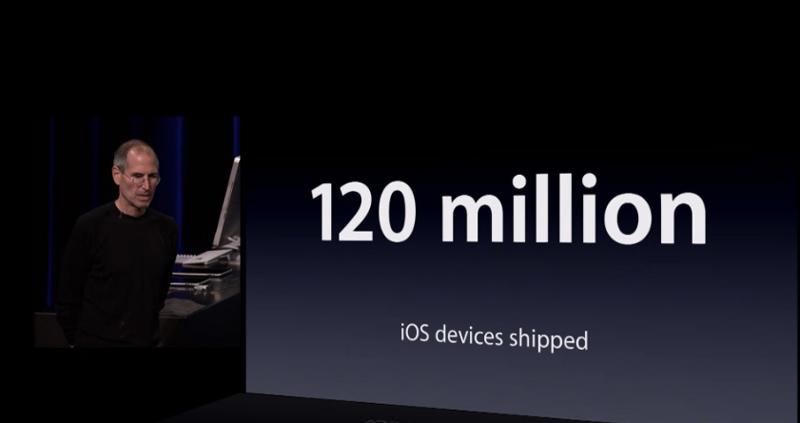 Of the 120 million iOS devices sold by Apple, 37.7 percent of those were the iPod touch — a share that has decreased since the iPad launched, according to a new analysis.
Apple Chief Executive Steve Jobs revealed last week that just over 120 million iOS devices have been shipped since the iPhone first launched in 2007. asymco took those numbers and subtracted the 59.6 million iPhones that were sold through June, and the 3.2 million iPad sales that were announced last quarter.
The site assumed that 8 million iPhones and 4 million iPads were sold in August and July, which would leave the remaining share of 45.2 million units to the iPod touch. Out of the 120 million iOS devices, that would represent 37.7 percent.
The site calculated in April that 41 percent of iOS units sold were the iPod touch, which shows that the introduction of the iPad, along with international expansion of the iPhone, has reduced the overall share of the device. However, the iPod touch in the last year has also become the best-selling iPod in the company's lineup, Jobs revealed last week.
Last week, Jobs also made comments about the success of the iPod touch as a game playing device. He claimed that the hardware has more than a 50 percent market share for portable game players in both the U.S. and worldwide.
"It's become the number one portable game player in the world," Jobs said. "It's amazing. The iPod touch outsells Nintendo and Sony portable game players combined. It's been amazing."
But as noted by Philip Elmer-DeWitt at Fortune, those figures have been called into question. Nintendo has sold 125 million of its Nintendo DS portable system, while Sony's PSP has shipped more than 62 million.
As for more recent sales, it is estimated that Nintendo sold 3.15 million of the DS last quarter, while Sony is said to have sold 1.2 million PSPs. Apple, however, does not reveal specific iPod touch sales, but last quarter the company sold a total of 9.41 million iPods.
Jobs' comments would suggest that of those 9.41 million iPods, Apple sold more than 4.35 million, or the total combined number of Nintendo DS and Sony PSP sales from last quarter. Analyst Gene Munster has estimated that Apple actually sold more than 6.8 million of the iPod touch last quarter.
Of course, iPod touch sales could go even higher after Apple last week introduced the biggest change to its portable media player yet. The new fourth-generation device includes the same Retina Display, A4 processor and gyroscope as the iPhone 4, and also adds a rear camera for picture taking, and a forward-facing camera for FaceTime video calls over Wi-Fi.