Apple unveils new iPod touch with Retina Display, forward-facing camera

Apple's new iPod touch has the same Retina Display, front facing camera, rear HD camera, and A4 processor as the iPhone 4, all in a size slimmer than last year's media player.
The new iPod touch, along with the rest of the new iPod lineup, will be available next week. All three models of the new iPod touch have the new features, starting at $229 for the 8GB model, $299 for the 32GB version, and $399 for 64GB of capacity.
Apple Chief Executive Steve Jobs said the new iPod touch can run the same iMovie application that was previously only available for the iPhone 4. Using the rear-facing HD camera, users can shoot video and edit it right on the device.
The new iPod touch also has a forward-facing camera and a microphone, which allow users to do FaceTime with other iPod touch users, as well as iPhone 4 owners.
The fourth-generation iPod touch will also ship with iOS 4.1, which includes Game Center, Apple's social networking application for game players. It also has the three-axis gyroscope, which allows for more precise controls in games.
"We've put our most advanced technology inside the new iPod touch," Jobs said in a press release. "Whether you're listening to music, playing games, making FaceTime video calls, browsing the web, capturing HD video or watching TV shows and movies, the new iPod touch with its Retina display, A4 chip and 3-axis gyro is more fun than ever."
Jobs said he believes that the new lineup of iPods is the strongest that Apple has ever had.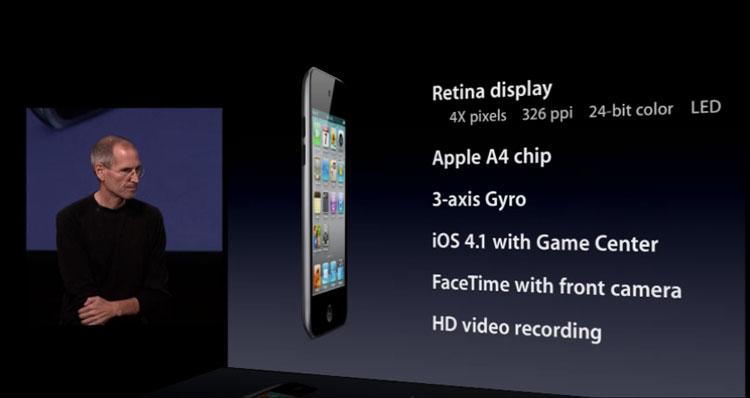 Apple boasted that the iPod touch is the world's most popular portable game player. The addition of Game Center will allow players to challenge and play friends or be matched automatically with new opponents.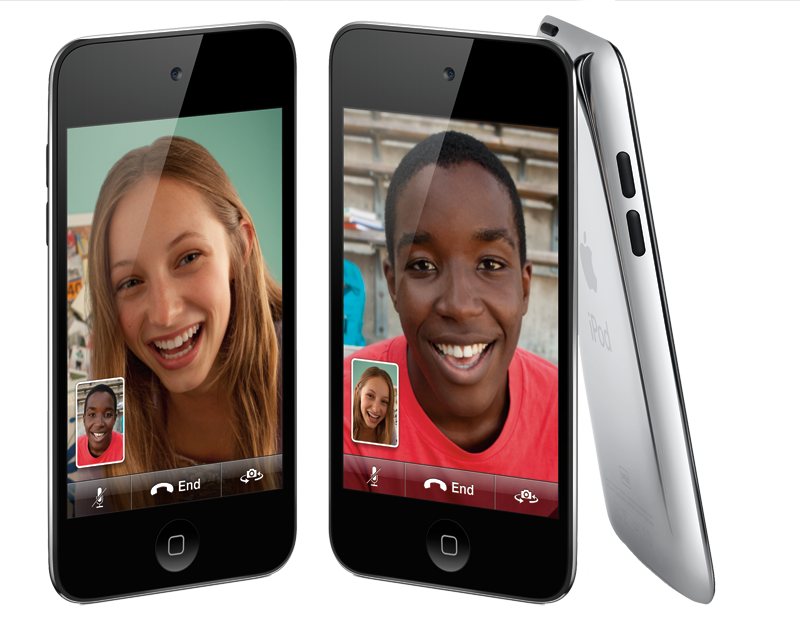 Game Center lets iPod touch users showcase their scores and achievements and discover new games their friends are playing. With the App Store on iPod touch, users have access to the world's largest catalog of apps with over 250,000 apps, including over 65,000 game and entertainment titles to choose from.
Facetime: FaceTime on iPod touch lets you hang out, catch up, and goof off with friends in an entirely new way. With just a tap, you can see what your friends are up to — literally. Witness a prank in action. Or watch your friend on the other side of the country crack up at your stories from last night — new iPod touch to new iPod touch or iPhone 4 over Wi-Fi. And all you need to get started is an Apple ID and an email account.
Retina Display: The Retina display on iPod touch brings out the awesome in anything on it. That's because it's the highest-resolution iPod screen ever, with four times the pixel count of previous iPod models. In fact, there are so many pixels, the human eye can't distinguish individual ones. Which makes graphics and images stunningly sharp, and text amazingly crisp. Just like the printed page.
HD Video Recording and Editing: "You should have seen it!" is a thing of the past. Because with iPod touch, you'll always have a great HD video camera with you. Say you're at a party and you see someone popping and locking. You're ready to capture the moment in all its glory. In high-definition 720p video. You can record video in low-light settings, thanks to the advanced backside illumination sensor. You can even edit and create your own mini blockbuster right on iPod touch using the new iMovie app — with Apple-designed themes, titles, and transitions. It's available on the App Store for $4.99.
Game Center: It's time to make a game plan. The new Game Center app on iPod touch lets you add more players to your gaming network. Invite friends to join. Then totally dominate them. Take a look at how your score ranks against your friends and other players of each game. Compare game achievements with your friends. Put together a select group of friends to play with. Or choose to automatically go up against people you don't know in a multiplayer game. So get in the game. And get your friends in it, too.
Music: With iPod touch, you don't just play your music. You hear it, and see it, in entirely different ways. Let Genius search your library and automatically create a mix just for you. Or give Genius playlist a go, and Genius will use a song you really love to find other tracks from your library that go great with it. You can also view album art in Cover Flow. Or shake to shuffle for a fresh take on your music library.
Movies and TV Shows: Your favorite movies and TV shows are now playing on a subway train or plane near you. Because you can buy movies and TV shows, or just rent them, right on iPod touch. Shop the iTunes Store and choose from thousands of must-see titles to fill your iPod touch. Then watch them on the amazing 3.5-inch color widescreen Retina display.
Height: 4.4 inches (111.0 mm)
Width: 2.3 inches (58.9 mm)
Depth: 0.28 inch (7.2 mm)
Weight: 3.56 ounces (101 grams)
8GB, 32GB or 64GB flash drive
802.11b/g/n Wi-Fi (802.11n 2.4GHz only)
Bluetooth® 2.1 + EDR
Maps-location based service4
Nike + iPod support built in
iPod touch
Earphones
Dock Connector to USB Cable
Quick Start guide
Environmental Status Report
Arsenic-free display glass
Brominated flame retardant-free
Mercury-free LCD display
PVC-free
Recyclable stainless steel enclosure
Smaller, more compact packaging (17% smaller, 16% lighter)
3.5-inch (diagonal) widescreen
Multi-Touch display
960-by-640-pixel resolution at 326 pixels per inch
Frequency response: 20Hz to 20,000Hz
Audio formats supported: AAC (8 to 320 Kbps), Protected AAC (from iTunes Store), HE-AAC, MP3 (8 to 320 Kbps), MP3 VBR, Audible (formats 2, 3, 4, Audible Enhanced Audio, AAX, and AAX+), Apple Lossless, AIFF, and WAV
User-configurable maximum volume limit
Earphones
Frequency response: 20Hz to 20,000Hz
Impedance: 32 ohms
H.264 video up to 720p, 30 frames per second, Main Profile level 3.1 with AAC-LC audio up to 160 Kbps, 48kHz, stereo audio in .m4v, .mp4, and .mov file formats
MPEG-4 video, up to 2.5 Mbps, 640 by 480 pixels, 30 frames per second, Simple Profile with AAC-LC audio up to 160 Kbps per channel, 48kHz, stereo audio in .m4v, .mp4, and .mov file formats
Motion JPEG (M-JPEG) up to 35 Mbps, 1280 by 720 pixels, 30 frames per second, audio in ulaw, PCM stereo audio in .avi file format
Support for 1024 by 768 pixels with Dock Connector to VGA Adapter; 576p and 480p with Apple Component AV Cable; 576i and 480i with Apple Composite AV Cable (cables sold separately)
Cameras, photos, and video
Video recording, HD (720p) up to 30 frames per second with audio; still photos (960 x 720) with back camera
VGA-quality photos and video up to 30 frames per second with the front camera
Tap to control exposure for video or stills
Photo and video geo tagging over Wi-Fi
30-pin dock connector
3.5-mm stereo headphone minijack
Built-in speaker
Microphone
External buttons and controls
Sleep/wake
Volume up/down
Home
Three-axis gyro
Accelerometer
Ambient light sensor
Built-in rechargeable lithium-ion battery
Music playback time: Up to 40 hours when fully charged
Video playback time: Up to 7 hours when fully charged
Charging times: Fast charge in about 2 hours (80% capacity), full charge in about 4 hours.