Alleged Apple iPad part sports dual docking ports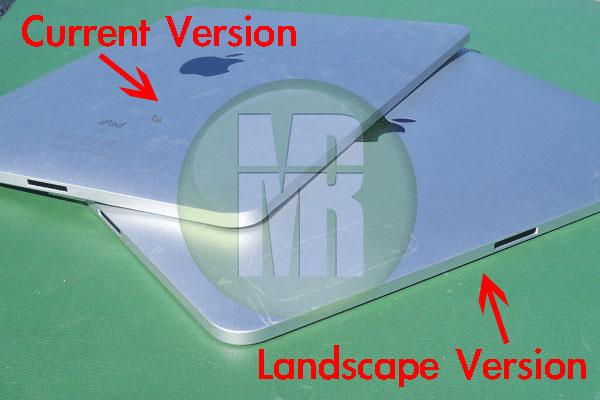 AppleInsider may earn an affiliate commission on purchases made through links on our site.
Photos of a part claimed to be the back of an Apple iPad show openings for two 30-pin iPod dock connectors, which would allow the device to be docked in both portrait and landscape orientations.
The part, obtained by Mission Repair, is a metal back for Apple's iPad. It shows one dock connector in the regular spot on the bottom, as well as another on the side, which would allow the device to be docked in landscape mode.
The site came to the conclusion that the obtained part is "pretty indicative" that the next-generation device will have a second dock connector in landscape mode.
Currently, docking an iPhone or an iPad with an official dock connector from Apple requires the hardware to stand in portrait orientation. This angle is not ideal for some tasks, such as watching a widescreen movie.
If the pictured component is legitimate, it's unknown whether it is a part from an upcoming next-generation iPad, or if it is an unused concept from an early prototype before the iPad was introduced early this year.
Apple has also shown interest in allowing its devices, including the iPad and iPhone, to dock in multiple orientations. In addition to designs that showed dual 30-pin connectors on the iPad, Apple has also filed for patents that describe an entirely new docking mechanism.
In documents revealed this July, Apple showed interest in adding an inductive connection to the back of an iPad, allowing the hardware to charge and sync in any orientation.