Apple: Q4 2010 Earnings Preview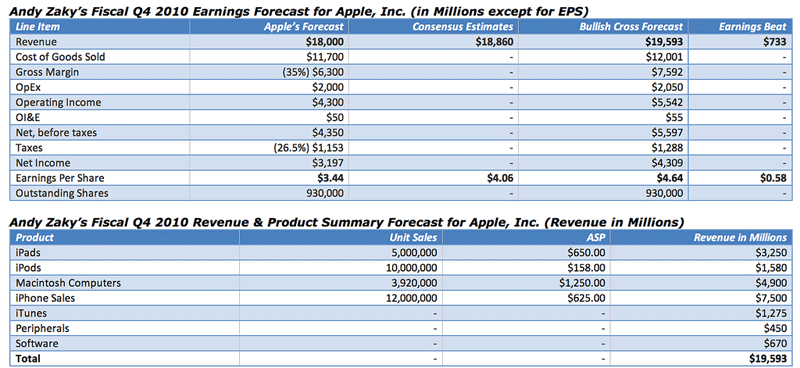 As the market grinds higher in anticipation of a second round of quantitative easing (QE2), all eyes are on Apple as the company sets to report fiscal earnings for its fourth fiscal quarter of 2010 on Monday after the bell.
Analysts polled by Thomson Reuters expect Apple to report approximately $4.06 in EPS on about $18.86 billion in revenue. Yet, according to a more recent poll, professional analysts are looking for Apple to earn closer to $4.11 in EPS on $18.95 billion in revenue. The "professionals," on average, expect revenue to be driven primarily by sales of 11.38 million iPhones, 9.54 million iPods, 3.78 million macs and 4.73 million iPads.
Yet, for those not living under a rock for the past three years, the more reliable estimates come by way of the so-called "Unaffiliated Analysts." According to this collection of bloggers — who almost always outperform professional Wall Street analysts — investors should expect to see Apple report about $4.73 in EPS on approximately $20.37 billion in revenue. The general consensus among the unaffiliated blogger-analysts is that revenue will be driven by sales of 12 million iPhones, 9.74 million iPods, 4.01 million macs and 5.52 million iPads.
Based on my earnings model (see here), my estimates this quarter fall on the lower end of the unaffiliated analyst estimates. My model is looking for Apple to report earnings of about $4.64 in EPS on about $19.6 billion in revenue. I'm looking for Apple to report sales of 12 million iPhones, 3.92 million macs, 10 million iPods and 5 million iPads.
Yet, despite my earnings model giving a slightly more conservative outlook for Apple's fiscal Q4, I think its very important that a certain level of deference should be afforded to the general unaffiliated analyst consensus. Investors should consider the reports and earnings models of each of the unaffiliated analysts. The table below outlines my detailed earnings model for Apple's fiscal Q4.
Bullish Cross Past Performance
One more thing...Here is how I did against the entire analyst community last quarter. Under one rating done by Philip Elmer-DeWitt at Fortune (click here) I finished 4th overall out of 32 analysts polled. And under Daniel Tello's more comprehensive rating of all the analysts (click here) I finished 6th overall out of 32 analysts polled across all categories. Notice how the bloggers (notated in Green) collectively outperformed the professional analysts (notated in Red) by a wide margin as a whole.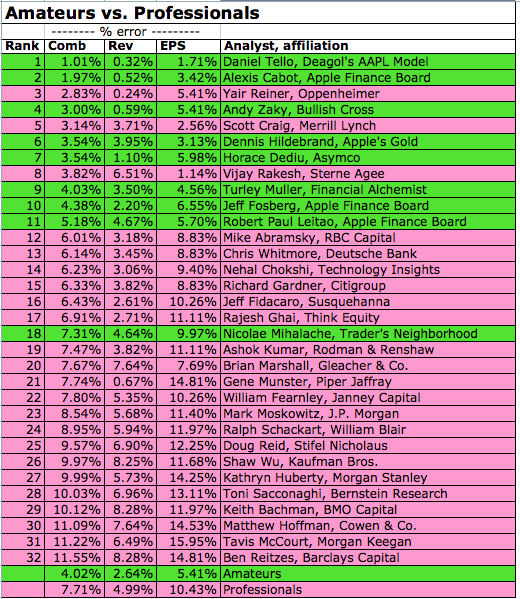 AppleInsider will provide full coverage of Apple's earnings and ensuing quarterly conference call beginning at 4:35 eastern time today.