Internal Apple memo says software fix for MacBook Air displays coming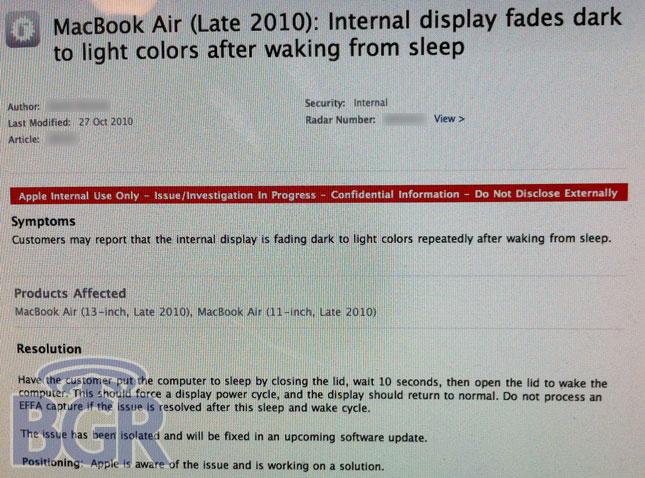 A memo allegedly leaked from Apple's internal company support system confirms display issues experienced by some owners of the new MacBook Air, and says that an upcoming software update will fix the problems.
The purported memo, obtained by Boy Genius Report, acknowledges that Apple is aware of the issue and is "working on a solution" in the form of an upcoming software update. The company notes that customers have reported horizontal screen flickering on the 13-inch model, while users of both the 11- and 13-inch notebooks have reported that the screen fades to light colors after waking from sleep.
The note claims that the causes of both the flickering and fading issues have been "isolated," but does not indicate when Apple might release the software update to address the problems.
Apple representatives are also instructed to have customers attempt a resolution that involves closing the MacBook Air lid, waiting 10 seconds, and then re-opening the lid to wake the computer up. Doing so forces the display to power cycle, and should resolve the issue.
The MacBook Air screen flickering issue gained attention earlier this week. Users on Apple's support forums have also reported vertical lines and odd colors on their screens, as well as freezing issues and trouble with the new instant-on feature.
Some have speculated that the display problems on the new MacBook Air models could be caused by the logic board of the hardware.
The new 11.6- and 13.3-inch MacBook Air models were released last month, and represent Apple's thinnest and lightest notebooks. The new, smaller 11.6-inch model has a starting price of just $999, and all models rely on the Nvidia GeForce 320M for graphics capabilities.