Google Android ties Apple's iOS in mobile ad impressions - report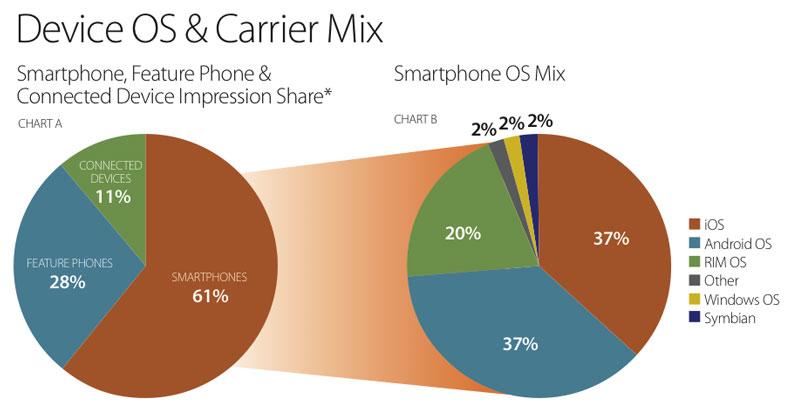 Google Android caught up with Apple's iOS in terms of mobile ad impressions in October, as advertising firm Millennial Media found both iOS and Android accounted for 37 percent of smartphones seen on its network.
Android caught up with iOS thanks to an 8 percent month-over-month increase for Google's mobile operating system. Millennial Media, the largest independent mobile advertising network, found that Google and Apple are crowding out competitors in the smartphone landscape, with only Research in Motion's BlackBerry taking a significant 20 percent share in third place.
The company has seen Android device requests grow 2,182 percent since January. For comparison, requests from Apple devices have grown 32 percent since the start of 2010.
The iPad has grown at a much faster rate, however, with requests from Apple's touchscreen tablet growing 112 percent month over month in October.
Despite the surging presence of Android, Apple's unified software and hardware strategy has kept it the largest manufacturer of devices seen in Millennial's network for the last 13 months. Apple accounted for 24.98 percent of device manufacturers in October, ahead of Samsung's 17.06 percent second-place finish, and Motorola with 14.78 percent in third.
Broken down by devices, the iPhone was also the most popular mobile device, representing 15.96 percent of the users seen on the ad network. The iPod touch was the third most popular device, with 7.53 percent, and the iPad came in ninth with 1.49 percent.
Earlier this month, the ad network categorized the growth of Android by noting that it had edged the iPad to become the second-most popular mobile development platform. Earlier this year, in April, the iPhone represented 70 percent of Millennial's smartphone traffic.