iPhone consumes 70% of Millennial Media's smartphone traffic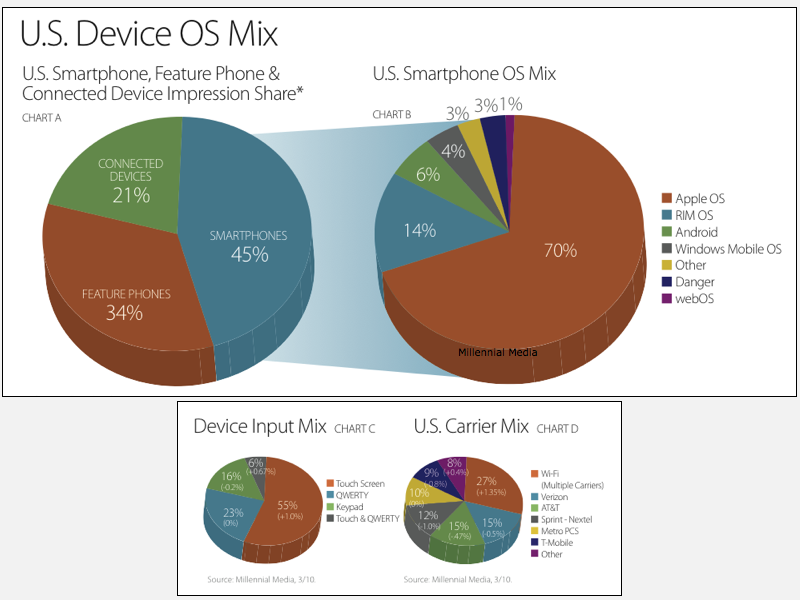 AppleInsider is supported by its audience and may earn commission as an Amazon Associate and affiliate partner on qualifying purchases. These affiliate partnerships do not influence our editorial content.
Mobile ad network Millennial Media has published a traffic report for March 2010 showing the iPhone demanding 70% of the firm's US smartphone ad impressions.
Millennial Media is now the largest independent mobile advertising network, after Google announced plans to acquire AdMob and Apple purchased the second place Quattro Wireless.
The company reports that Apple's iPhone accounts for 40% of all the ad impressions it serves on all devices, which includes smartphones, feature phones, and "connected devices," a category that includes anything that isn't a phone but can still browse the web, such as the iPod touch, iPad, Nintendo DS and Sony PlayStation Portable.
Apple's strong showing in ad impressions is largely due to the popularity of iPhone apps and the disproportionally larger presence iPhone users have in browsing the web. Apple's actual market share in unit sales globally is closer to 25%.
Interestingly, Millennial Media also breaks down its ad traffic by mobile network, reporting that requests from AT&T were about the same as those from Verizon Wireless (both were tied at 15%), with Sprint not too far behind with 12%. That indicates most iPhone users are consuming their disproportionally large amount of the pie via WiFi, which is ranked at originating 27% of the ad requests the firm witnessed.
In other words, AT&T does not appear to be handling far more data traffic than its primary competitor just because of the iPhone. The two carriers have roughly similar number of subscribers, although AT&T claims more smartphone users.
While Millennial Media didn't break down its mix of traffic for "connected devices," it's hard to imagine that much of that pie was consumed by something other than the iPod touch and iPad, as game consoles are rarely used to browse the web or run mobile apps, and nobody else sells similar devices in any quantity. The company did note that iPad traffic had increased by 713% during the first full week it was in-market, which is a nearly meaningless statistic.
The company also noted big growth for Android (up 72% over last month) and RIM (up 25%), but noted that RIM's devices originate just 14% of its ad requests, while Android devices account for only 6%. Again, mobile ad network statistics are heavily weighted toward devices that use apps and browse the web.