St. Clair accuses Apple, RIM, HTC of patent infringement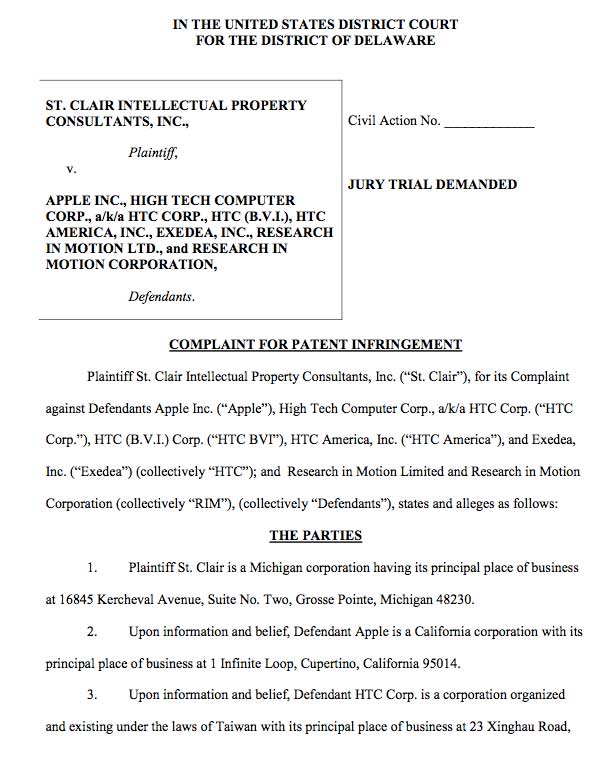 St. Clair Intellectual Property Consultants, a firm that sued Apple a year ago over camera-related patents, has filed a new suit in relation to patents it owns regarding power maintenance and processors.
In a new lawsuit filed last week, St. Clair has taken aim at a number of major device makers: Apple, Research in Motion, and HTC Corp, along with its subsidiary, Exedea. The complaint, filed in a U.S. District Court in the District of Delaware, accuses the companies of infringing upon seven patents owned by St. Clair.
Named in the suit by St. Clair are the iOS mobile operating system and products that run it, including the iPhone, iPad and iPod touch.
In its complaint, St. Clair says that the firm offered to license the power management technology in four of the patents — '929, '959, '025 and '175 — in a letter set to Apple on Oct. 13, 2000. It also names five Apple patent applications rejected by the U.S. Patent Office in which St. Clair's power management patents were cited as prior art.
The suit also notes that Apple has been involved in multiple other patent infringement suits related to power management technology in which the patents in suit "were considered by Apple." Cited were lawsuits against Apple filed by Optimum Power Solutions, Elonex and Saxon Innovations, as well as Apple's ongoing legal dispute with HTC.
St. Clair also argued that Apple was aware of its patents because of its transition to Intel processors for its entire line of Mac computers. The complaint accuses Apple of "disregard" of the seven patents named.
The most recent suit is St. Clair's second active legal action against Apple. Last October, the firm sued Apple, RIM and numerous other companies over a number of digital imaging patents owned by St. Clair.
Legal action over patents has proven to be very profitable for St. Clair. The firm was awarded $25 million in a lawsuit against Sony Electronics and Sony Corporation of America in 2003. In 2004, a jury awarded $34.7 million to St. Clair in a complaint against Canon USA. And in 2004, a separate suit against Fuji related to the same imaging patents resulted in a jury-awarded $3 million in damages.