Insurance company claims Apple's 'dangerous' MagSafe started fire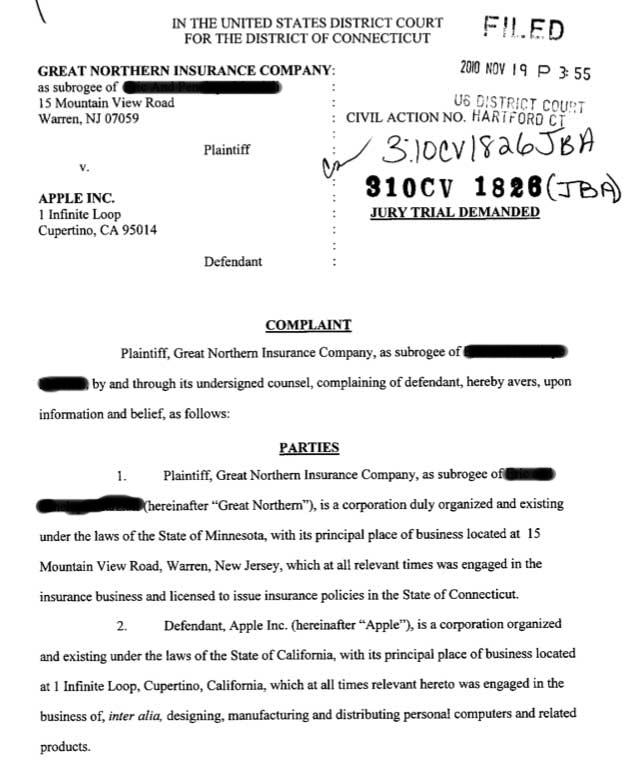 AppleInsider may earn an affiliate commission on purchases made through links on our site.
A newly filed lawsuit claims that Apple's MagSafe charger, attached to a 2007 MacBook Pro, caused a major fire at a Connecticut home.
The lawsuit was filed this month in a U.S. District Court in Connecticut by Great Northern Insurance Company. Great Northern made payments in excess of $75,000 to a client after an accidental fire occurred at their family's home.
According to the lawsuit, the fire marshal of the town of Glastonbury concluded that the blaze, which occurred on May 23, 2008, was caused by the "external system components" of the laptop found in the home.
"Unbeknownst to [the client], in 2007 and 2008, Apple had received numerous complaints posted on its own Apple store website alerting Apple to heating, burning and sparking problems with its MagSafe adapters," the suit reads.
"As a result of the aforementioned fire, [the family] sustained severe and extensive damage to their real and personal property and incurred additional living expenses."
Great Northern's lawsuit attempts to prove that the MagSafe adapter was "in a defective and unreasonably dangerous condition" due to Apple. The complaint argues that Apple "manufactured and sold the MagSafe adapter in a condition that it knew, or should have known, subjected the property of others to foreseeable and unreasonable risk of harm."
Great Norther has asserted that because Apple "negligently designed and manufactured" the MagSafe adapter, it should be reimbursed for the fire damage that occurred in 2008.
According to the suit, the MacBook Pro and its MagSafe adapter were purchased in August 2007. It states that the computer and its charging accessory were used as intended, and "without abusing or misusing" them.
The latest lawsuit is in addition to one filed in 2009, when Apple was hit with a class-action complaint regarding fires allegedly started by MagSafe adapters. That complaint, filed on behalf of multiple users, claimed that normal day-to-day use destroyed the cable on the MagSafe adapter, potentially leading to sparks or fire.