Retailers building their own iPod touch, iPad POS systems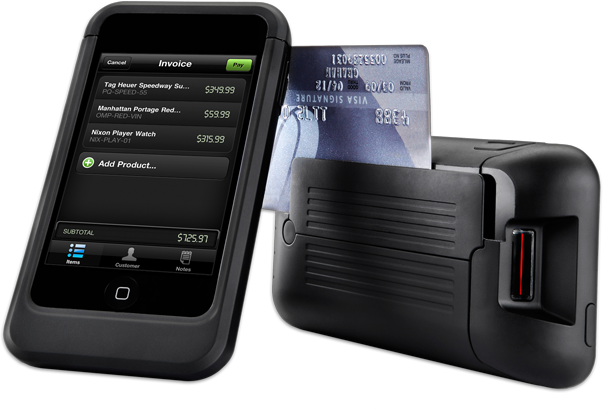 Apple's open, third party iOS ecosystem is enabling retailers to build mobile point of sale devices based on the iPod touch independently of the EasyPay solution used in its own retail stores, with new retail applications of the iPad also in progress.Â
Yesterday, a report published by the 9 to 5 blog claiming that Gap "was piloting Apple's iPod-based POS system at a few of our Old Navy stores" erroneously concluded that Apple was marketing the custom mobile software it had developed internally for its own retail stores in a test pilot with other retailers.Â
Other retailers are indeed using the same hardware sled Apple uses, a third party product built by Infinite Peripherals and called the "Linea Pro," which adds a barcode scanner, credit card magnetic strip reader and a rechargeable battery pack to Apple's iPod touch. Â
However, the software Apple uses to drive its EasyPay device is an iOS app custom-designed to work with the company's Oracle 360Commerce backend retail software. This highly custom bit of mobile software is of limited value to other retailers, but the retail experience exemplified in Apple's retail stores and delivered by the iPod touch is very attractive to other merchants, who are now working to build their own retail solutions using Apple's iOS devices.
According to Global Bay CEO Sandeep Bhanote, other major retailers are not only commissioning their own POS solutions based on the iPod touch, but are also looking at Apple's iPad as both a retail kiosk and as a tool for delivering personalized shopping services for high-end clients. Global Bay has worked closely with Apple's enterprise team to implement an iOS-based mobile retail system for Guess Jeans, using the same hardware Apple uses in its own retail stores.
In an interview with AppleInsider, Bhanote described two classes of products aimed at bringing mobile payment systems to businesses. On the low end, the San Jose, Calif. based VeriFone has introduced PAYware Mobile, a service that combines an iOS app, a custom credit card swipe peripheral for the iPhone and the backend support required to bring simple credit card transactions to small businesses.Â
In September, Xsilva began offering a solution for small businesses called LightSpeed Mobile, which ties mobile terminals using the iPod touch and a Linea Pro sled to a Mac OS X desktop appellation. Similarly, PayPal also delivers a direct payment app for iOS that doesn't require a physical credit card, and Apple is rumored to be working to bring contact-free payments to iOS devices using NFC technology.
For large, established retailers however, mobile point of sale devices must do more than simply ring up transactions; they also need to tie into their existing backend software. Bhanote said major retailers are facing the issue of "how do i take this old dinosaur technology and make it relevant to my store?" Global Bay's solution interfaces the iPod touch with whatever backend system a retailer might be using, preventing them from needing to embark upon a major upgrade of their backend point of sale infrastructure just to make use of new mobile terminals.Â
The origins of Apple's EasyPay appÂ
It's no surprise that Apple would pioneer the use of its own hardware to modernize retail transactions in its own stores. According to a posting by Oracle's "Insight-Driven Retailing Blog," development of Apple's EasyPay app was originally led by David Francis, a consultant with a decade of experience in building enterprise software for the Mac OS X Cocoa platform.Â
Apple approached Francis in the spring of 2008, just as the company was releasing its initial software development kit for the new iPhone and iPod touch. "No one had ever built anything like it on an Apple mobile device," Francis stated in an interview about the project.Â
"Armed with our knowledge of the Apple platform," Francis explained, "we set out to build something that was world class. It had to be fast, it had to be secure, and it had to be sexy. We went through many iterations of the technology and the user interface to give it that Apple look and feel and superior ease of use. Our efforts were rewarded when the system was rolled out. As sales associates started adopting it, they indicated that it was very intuitive and light years ahead of their old system."
The hardware behind Apple's EasyPay iPod touchÂ
The development of Apple's EasyPay software began just after Apple was approached by Infinite Peripherals, which was already in the business of building magnetic strip readers for Palm Treo, Windows Mobile, and RIM BlackBerry devices.Â
According to a report by ifoAppleStore, Infinite Peripherals' chief executive Jeffrey Scott approached Apple's retail team in January 2008 at the National Retail Federation conference, saying, "I noticed you are using a competitors product in your stores."
Since 2005, Apple had been using hardware devices built by Symbol (now a subsidiary of Motorola) and running Microsoft's Windows CE, but that hardware was fraught with problems, including frequent crashes and flakey WiFi support that required regular reboots.Â
Following its first contact with Apple, Infinite Peripherals began development of the iPod touch hardware sled that would later be sold as the Linea Pro. By early 2009, the design of the new hardware peripheral was nearly complete but it was running into a limitation of iOS that was fortuitously shattered by Apple's release of 3.0, which debuted new support allowing hardware peripherals to communicate with iOS devices via their 30-pin Dock connector.Â
Production of the new hardware began mid-2009, with about 10,000 devices reaching stores for training and and inaugural launch that occurred last November. The combination of the iPod touch, Francis' custom internal app, and the Infinite Peripherals sled greatly enhanced the experience of Apple's retail store employees. "It's like going from a tricycle to a Lamborghini," Scott said of Apple's response to the EasyPay upgrade.
Opportunities for expansionÂ
Francis, Apple's original EasyPay development consultant, has since started his own venture, named Touch2Systems. It offers iOS mobile point of sale systems for retailers, restaurants, hotels and inventory management.
Beyond retail applications, the Linea Pro sled for the iPod touch is already designed to read "all three of the industry-standard magnetic stripe tracks used by financial, transit, telecom and driver's license agencies," according to the ifoAppleStore report, enabling third parties to expand the applications of the iPod touch-paired unit in a variety of new directions. Apple's own EasyPay system, as well as products from Global Bay and Touch2Systems, tap into a software development kit Infinite Peripherals created for the Linea Pro to enable iOS developers to read bar codes and magnetic stripes across a wide variety of applications.Â
Third parties are also looking at the iPad for a variety of enterprise applications, with retailers particularly interested in its ability to captivate shoppers' attention as an informational kiosk they can directly interact with, but also as a handheld tool sales staff can use to deliver personalized experiences.Â
Developers also note that Apple is listening to their needs and feedback concerning its enterprise deployment tools, used to roll out, update and manage custom software across a company's fleet of iOS devices. Bhanote said Apple's support for enterprise deployment was good, particularly when considering "the short time they've been doing it."