Several Apple retail stores fall victim to smash-and-grab burglaries [u]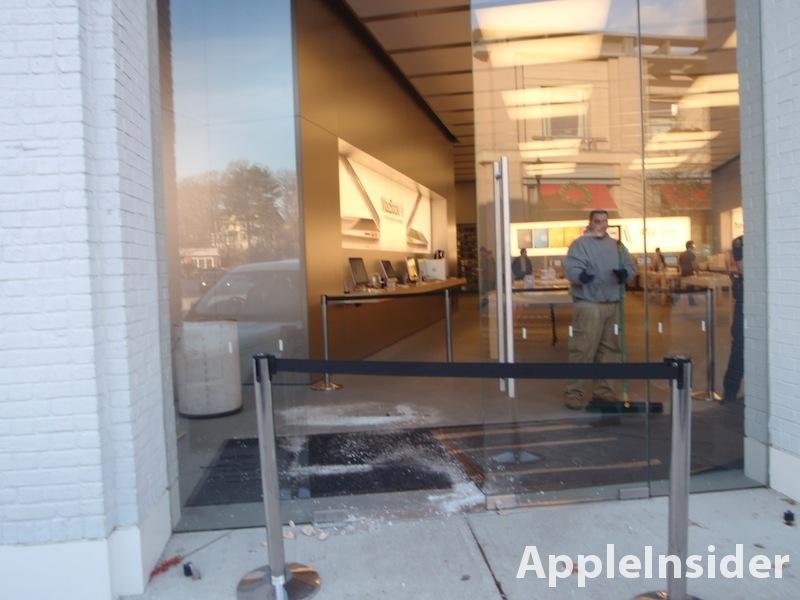 A burglary at the Apple Store in Greenwich, Conn., Tuesday morning is the latest in a string of smash-and-grab burglaries targeting Apple's retail stores.
The store's surveillance video shows five burglars smashing the front door of the store and quickly grabbing tens of thousands of dollars' worth of merchandise before making their escape. The burglary took place around 3 a.m. early Tuesday morning.
The Greenwich Avenue store opened in November of last year. Greenwich, Conn., is an upscale town well-known for being the "hedge fund capital" of the U.S.
The store was closed Tuesday for repairs. Workers swept up broken glass while a security guard stood watch.
With their iconic glass doors and high concentration of valuable products, Apple Stores have become an easy target for smash-and-grab style burglaries. The company's retail stores have been the victims of a rash of burglaries that have taken place in Illinois, Pennsylvania, New Jersey and now Connecticut.
Surveillance images released by the Greenwich police show the five hooded suspects breaking into the store.
The Apple Store in the UTC mall in San Diego, Calif. has twice been subject to a smash-and-grab burglary. In August, thieves broke through the store's front doors to steal 12 iPhone 4s. On Dec. 9, the UTC Apple Store was again burglarized. The perpetrators made off with 15 Apple unspecified products.
On Dec. 6, the Tice's Corner Apple Store in Woodcliff Lake, N.J., was burglarized. Just before 2 a.m., four burglars smashed their way into the Apple Store for a 30-second stealing spree that included iPods, MacBooks and iPhones.
In 2008, burglars broke into the Tice's Corner store through a vacant furniture next door. Using sledgehammers, crowbars and other tousle, broke through a wall to gain access to the Apple Store. The burglars were unsuccessful, however, and police apprehended and charged three of the four men involved.
Thieves took over $10,000 worth of Apple merchandise from the Shadyside Apple Store in Pittsburgh, Penn., in November. Police suspected that the break-in was connected to a similar burglary at a nearby T-Mobile store that took place hours before the Apple Store theft.
In September, burglars made off with more than $24,000 in Apple products from an Apple Store in Naperville, Ill.
Apple's retail business has seen tremendous growth since the Cupertino, Calif., company opened its first stores May 2001. In the next year, Apple expects to open 40 to 50 new stores, with over half them overseas.
Roughly half of the Macs sold in Apple's retail stores are to first-time Mac owners. As of October, Apple had 317 stores worldwide, averaging $11.8 million of revenue per store, up 52 percent year over year.