Radio Shack renews $50 popular iPhone promotion through Friday [u]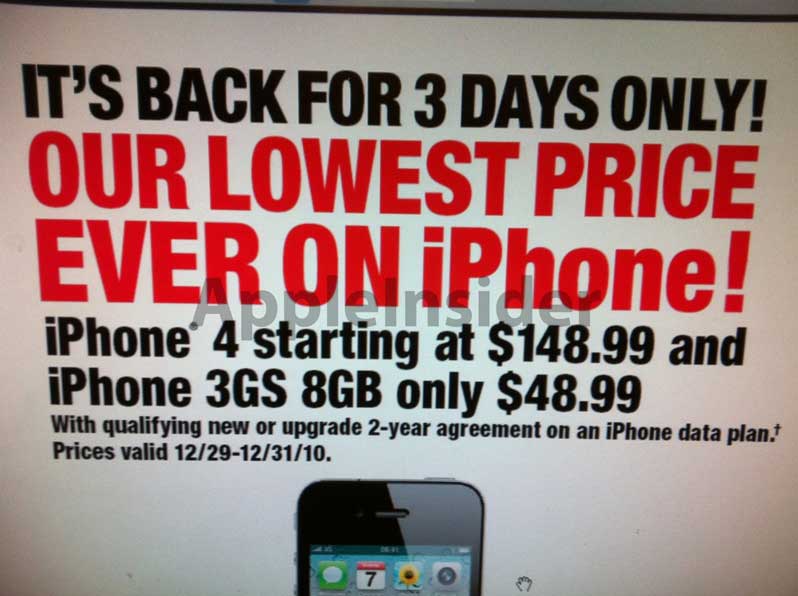 AppleInsider is supported by its audience and may earn commission as an Amazon Associate and affiliate partner on qualifying purchases. These affiliate partnerships do not influence our editorial content.
After an initial sale resulted in iPhone sellouts at Radio Shack stores across the U.S., the retailer has brought back the sale for three days, offering $50 off the regular prices of iPhone models, with the iPhone 3GS starting at just $48.99 with contract.
The promotion was renewed on Wednesday and will be available through Friday, Dec. 31. Customers can get an 8GB iPhone 3GS for $48.99, or a 16GB iPhone 4 for $148.99, both $51 off their regular price with a two-year contract. On the high end, the 32GB iPhone 4 is available for $248.99.
Radio Shack has also reduced the prices on refurbished iPhones, selling the 16GB iPhone 4 for $124 with contract, and 32GB iPhone 4 for $224. A refurbished iPhone 3GS is now free with a new activation contract, and $24 for upgrading customers.
But unlike the previous deal, the retailer is reportedly not upping the value of its Trade & Save program. Under the promotion earlier this month, customers who traded in a working iPhone 3G could receive a $75 credit, while a working iPhone 3GS was worth $125, allowing buyers to grab an iPhone 4 for as little as $25.
Update: Readers are reporting that Radio Shack is offering the higher trade-in values of up to $125 for an iPhone 3GS and up to $75 for an iPhone 3G during the three day sale in their areas. However, several Radio Shack stores contacted by AppleInsider confirmed that their trade-in credits were at "normal levels."
The three-day sale is again being advertised as Radio Shack's lowest price ever on the iPhone. The previous sale proved to be such a tremendous success that the company was left with a nationwide shortage of the iPhone before the promotion concluded.
Supplies for the new sale may not be readily available, either. At least one store reached by AppleInsider on Wednesday indicated it does not currently have the iPhone in stock. Radio Shack has more than 4,600 storefronts worldwide.
Previously unheard of, promotions of the iPhone became increasingly common this holiday buying season. Another major retailer, Best Buy, offered customers a free iPhone 3GS this December, with a new two-year-contract. The 8GB iPhone 3GS regularly sells for $99 with a contract.