Verizon iPhone to offer unlimited data in contrast to AT&T [u]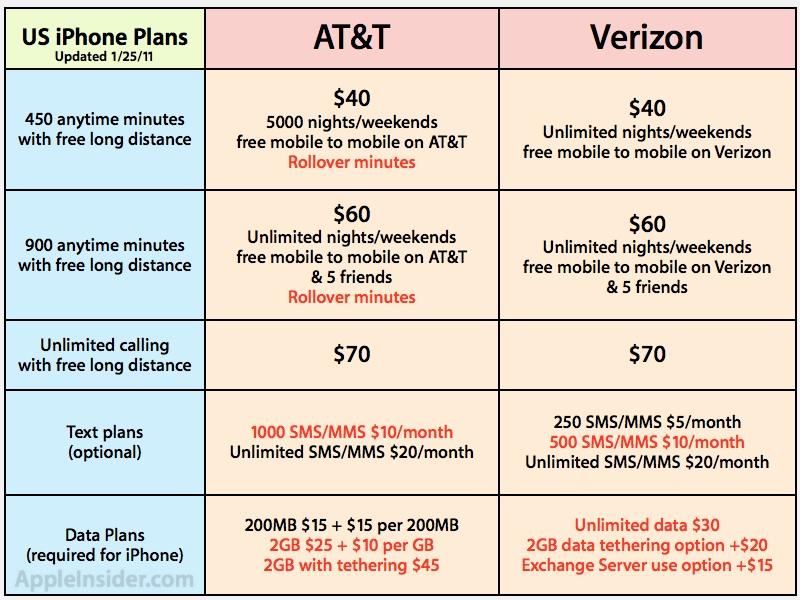 Verizon will reportedly announce the iPhone on Tuesday paired with its existing service plans, including an all-you-can-eat data plan, and become available to subscribers later this month.
A report published by Reuters credited an unnamed source for saying Verizon would sell the iPhone with its existing wireless plans.
Update: A second report by the Wall Street Journal specifically notes that Verizon will offer its existing unlimited data plan to iPhone users, something AT&T no longer offers to new subscribers.
"It wasn't clear how long Verizon would offer unlimited plans," the report said. "Its executives have said repeatedly that the industry needs to move to some form of tiered pricing as data use rises, but for the moment the carrier is sticking with its current data plans."
Verizon sets a separate 5GB data limit on its tethering option and on data plans for USB modems and similar PC-oriented WWAN services, but users report that the company does indeed offer truly unlimited data for existing smartphone users.
If the company does indeed offer unlimited data plans for new iPhone subscribers, it will be a unique incentive that may be more likely to draw existing AT&T customers.
Verizon currently offers smartphone voice plans that are nearly identical to AT&T. There are some regional differences in service plans, as well as family and business plans, but the general terms of each carrier's current plans are outlined below, with differences highlighted in red.
AT&T offers rollover minutes, while Verizon offers users on its cheapest calling plan the ability to list five contacts they can make unlimited calls with. Both company's unlimited calling plans are virtually identical.
In data plans, AT&T has given up its unlimited data plan for iPhone users and replaced it with 200MB and 2GB (2000MB) options. Tethering the iPhone to use its mobile 3G with a laptop costs an additional $20 per month but does not offer any additional data service.
Verizon offers a more limited basic data plan for the same amount, and currently offers unlimited data for $30 per month. Tethering is an additional $30, and comes with 5GB of data (rather than counting against unlimited use). Using a smartphone with an Exchange Server incurs an additional $15 per month charge.
While the quality and coverage of service the two carriers offer fluctuate by region, Verizon generally has broader 3G coverage in rural markets and some cities, while AT&T currently offers the fastest data service in markets it covers well (typically metro areas, notably excluding New York and San Francisco).
AT&T's service also enables users to roam globally on other GSM/UMTS carriers, although this is very expensive. AT&T's UMTS service also supports simultaneous voice and data use, unlike Verizon, where users must terminate their call before they can again receive push messages or browse the web.