Apple, Adobe, others join forces in software piracy lawsuit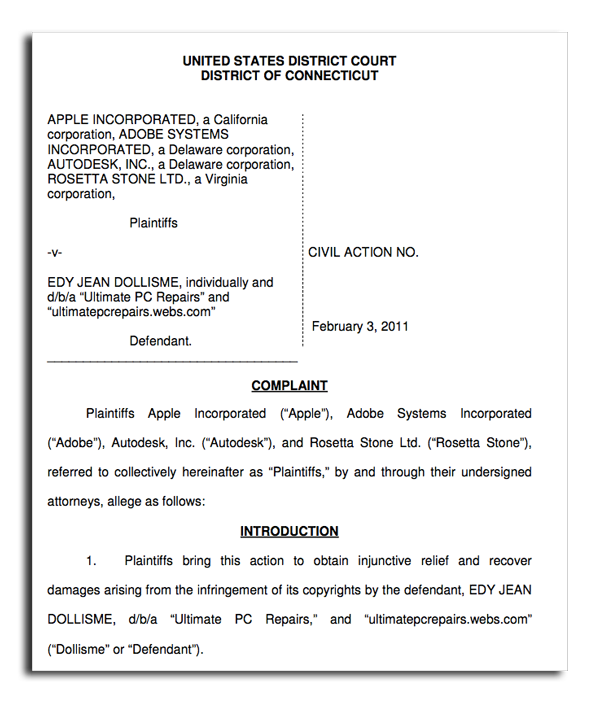 AppleInsider is supported by its audience and may earn commission as an Amazon Associate and affiliate partner on qualifying purchases. These affiliate partnerships do not influence our editorial content.
Apple has partnered with Adobe and other software makers to take on a Web-based vendor accused of selling stolen software via Craigslist and a private website.
Apple and Adobe are joined by Autodesk and Rosetta Stone in the complaint against Florida resident Edy Jean Dollisme and the website ultimatepcrepairs.webs.com. The lawsuit accuses Dollisme of selling pirated software via Craigslist and the "Ultimate PC Repairs" website.
"Defendant has used various Craigslist seller identities and contact information to advertise his products on that site," the complaint reads. "Defendant also operates as Ultimate PC Repairs through his own web page located at ultimatepcrepairs.webs.com (the 'Ultimate PC Website'), where he offers over eighty (80) software titles for sale."
Available on the site are a long list of applications for both PC and Mac, including Apple's iLife and iWork suites, Final Cut and Snow Leopard. Also listed are Adobe's Creative Suite, Acrobat, and Illustrator.
Listed for Windows are Autodesk and Autocad, as well as Rosetta Stone. Numerous other applications are listed on the website from software makers that are not parties in the lawsuit, including Microsoft Office, Quicken and others.
"Notably, some or all of the infringing copies distributed by Defendant were in the form of burned (i.e., 'homemade') DVD+R and CD-R media, with the titles handwritten in marker," the complaint reads.
The website advertises that "many more" software titles are available upon request, and applications can be purchased via PayPal. The site makes no mention of Dollisme, but notes that the "Ultimate PC Repairs" business serves Dade, Broward and West Palm Beach counties in South Florida.
Apple and the other plaintiffs hope to prove in court that Dollisme and his alleged "Ultimate PC Repairs" website have engaged in copyright infringement in violation of U.S. law. The companies would like to see the website shut down, and for Dollisme to pay damages.
The lawsuit was filed on Feb. 3 in a U.S. District Court in the District of Connecticut. Representing the companies is the law firm Roche Pia LLC of Shelton, Conn.