Motorola's iPad competing Xoom won't immediately support Adobe Flash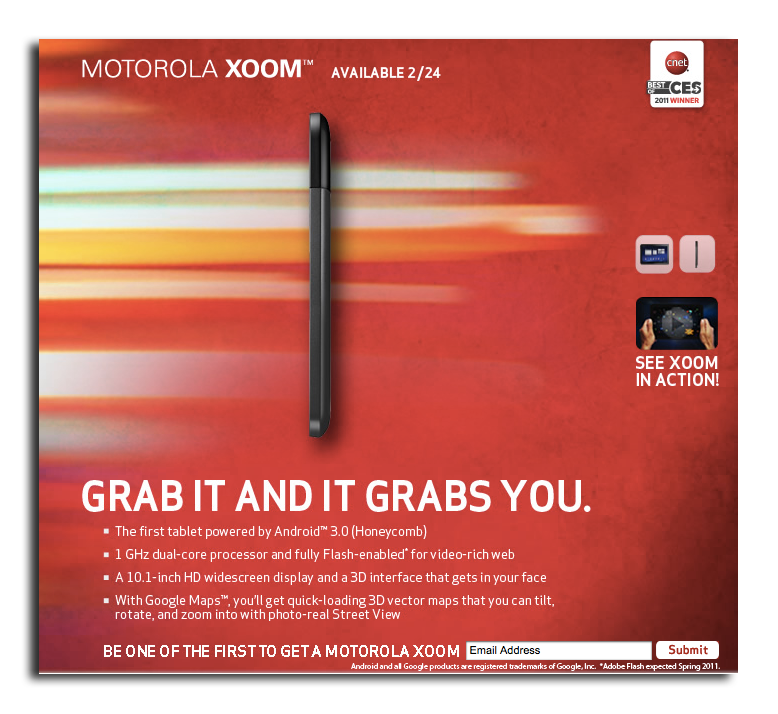 AppleInsider is supported by its audience and may earn commission as an Amazon Associate and affiliate partner on qualifying purchases. These affiliate partnerships do not influence our editorial content.
While the ability to run Adobe Flash has been touted as a feature that makes the Android-powered Motorola Xoom superior to Apple's iPad, Flash support is not expected to arrive for the Xoom until Spring 2011.
The news came as a result of a new advertisement for the Xoom on the website U.S. carrier Verizon Wireless. The ad touts the forthcoming tablet's 1 GHz dual-core processor, which is "fully Flash-enabled for video-rich web."
But in mentioning Flash, the site also contains fine print noting that Adobe Flash is expected in Spring 2011. Its apparent lack of inclusion on the Xoom when it launches this week would suggest that Flash is not yet ready for Google's Android 3.0 Honeycomb mobile operating system, which is tailored for tablet-style devices like the Xoom.
Apple has famously prevented the appearance of Adobe Flash on its iOS-powered devices, including the iPad and iPhone. The company has cited poor performance of the browser plug-in
Last year, Apple Chief Executive Steve Jobs authored a letter in which he panned Flash as unfit for the mobile era of low-powered devices with long battery life. He said he believes Flash was created for the PC era, which was about mice and keyboards, but is not meant for today's touchscreen devices.
In addition to performance issues, Jobs said the delays in bringing Flash to mobile devices were also evidence that it is not suited for the iPad or iPhone.
"Adobe publicly said that Flash would ship on a smartphone in early 2009, then the second half of 2009, then the first half of 2010, and now they say the second half of 2010," Jobs wrote. "We think it will eventually ship, but we're glad we didn't hold our breath. Who knows how it will perform?"
Motorola has not been alone in pushing the ability of its tablet to run Flash. Last month, Toshiba launched a product site for its new tablet using Flash, which blocked iPhone or iPad visitors from accessing the page. Those on an iOS device were greeted with the message: "Such a shame. Add this to the list of interesting places on the internet you can't see on your device. Of course, if you had a Toshiba Tablet you would enjoy the entire internet. Yep, Flash sites too."
The 3G version of the Motorola Xoom with 32GB of flash memory is set to launch on Thursday for $800. The company has said that a Wi-Fi-only 32GB model will launch later this year for $600.
The hardware, which also features a 10.1-inch display and front-facing 2-megapixel camera and rear-facing 5-megapixel camera, was unveiled in early January at the Consumer Electronics Show. Motorola hyped the device with a pricey Super Bowl advertisement earlier this month, with a minute-long spot that suggested Apple device users are drones in an Orwellian world similar to the one created in the novel "1984."