Apple's new 13-inch MacBook Pros sport dual-core Core i5, i7 chips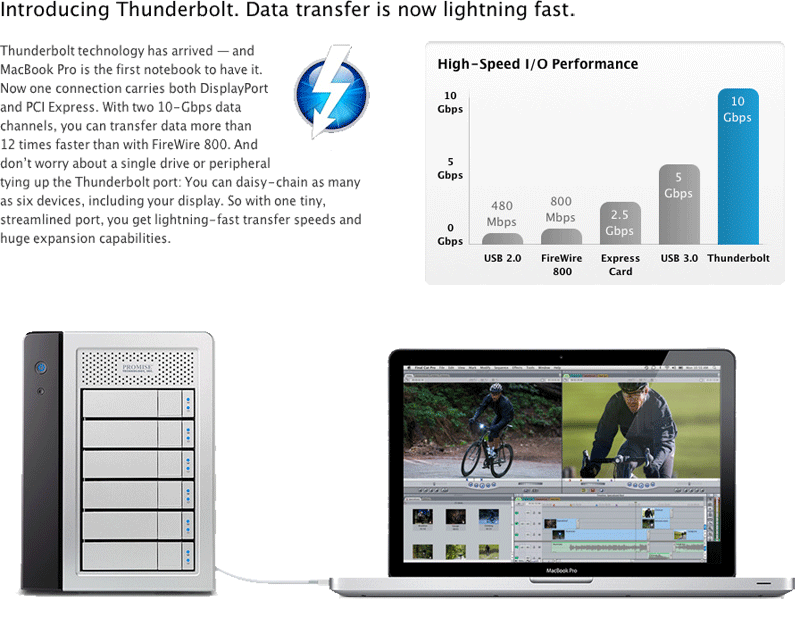 As expected, Apple on Thursday updated its MacBook Pro family with next generation processors and graphics, high-speed Thunderbolt I/O technology and a new FaceTime HD camera.
"The new MacBook Pro brings next generation dual and quad Core processors, high performance graphics, Thunderbolt technology and FaceTime HD to the great design loved by our pro customers," said Philip Schiller, Apple's senior vice president of Worldwide Product Marketing. "Thunderbolt is a revolutionary new I/O technology that delivers an amazing 10 gigabits per second and can support every important I/O standard which is ideal for the new MacBook Pro."
Sandy Bridge architecture with integrated Intel HD Graphics
The new Core i5 and Core i7 chips found inside the 13-inch MacBook Pros are part of Intel's new Sandy Bridge architecture and also include integrated Intel HD Graphics 3000 with 384MB of DDR3SDRAM shared with the main memory.
The entry level 13-inch model offers a 2.3GHz dual-core Intel Core i5 chip with a 3MB shared L3 cache for $1,999 while a $1,499 configuration includes a 2.7GHz dual-core Intel Core i7 with 4MB of shared L3 cache.
The new MacBook Pros are the first computers on the market to include the unique Thunderbolt I/O technology. Developed by Intel with collaboration from Apple, Thunderbolt enables expandability never before possible on a notebook computer.
Featuring two bi-directional channels with transfer speeds up to 10Gbps each, Thunderbolt delivers PCI Express directly to external high performance peripherals such as RAID arrays, and can support FireWire and USB consumer devices and Gigabit Ethernet networks via adapters.
Thunderbolt also supports DisplayPort for high resolution displays and works with existing adapters for HDMI, DVI and VGA displays. Freely available for implementation on systems, cables and devices, Thunderbolt technology is expected to be widely adopted as a new standard for high performance I/O.
The MacBook Pro now includes a built-in FaceTime HD camera with triple the resolution of the previous generation for crisp, widescreen video calls. With Apple's FaceTime video calling software, the new camera allows high definition video calls between all new MacBook Pro models and supports standard resolution calls with other Intel-based Macs, iPhone 4 and the current generation iPod touch.

FaceTime is included with all new MacBook Pro models and is available for other Intel-based Macs from the Mac App Store for 99 cents. The MacBook Pro lineup continues to feature its aluminum unibody enclosure, glass Multi-Touch trackpad, LED-backlit widescreen display, illuminated full-size keyboard and 7-hour battery.
The MacBook Pro lineup continues to feature its same aluminum unibody enclosure, glass Multi-Touch trackpad, LED-backlit widescreen display, illuminated full-size keyboard and 7-hour battery.
Every Mac notebook achieves EPEAT Gold status and meets Energy Star 5.0 requirements. Each unibody enclosure is made of highly recyclable aluminum and comes standard with energy efficient LED-backlit displays that are mercury-free and made with arsenic-free glass. Mac notebooks contain no brominated flame retardants, are PVC-free and are constructed with recyclable materials.
In addition, each new MacBook Pro comes with Mac OS X Snow Leopard and iLife, Apple's suite of applications for creating and sharing photos, movies and music.
Features included with new Core i5 and i7 chips
New Intel Core i5 and i7 chips up to 2x faster at the core The new 13-inch MacBook Pro models feature the new dual-core Intel Core i5 processor or the fastest dual-core processor available — the Intel Core i7, and they use Intel's recently refined chipsets. This makes the new MacBook Pros perform up to twice as fast as the previous generation, capable of handling demanding tasks like editing HD video, compiling audio, or rendering a multilayered image file. And ac OS X Snow Leopard is designed to take advantage of every processor core, maximizing performance.



 Faster single-chip microarchitecture The latest Intel Core architecture puts the processor, cache, memory controller, and graphics engine on a single chip. Data travels a shorter distance, allowing for greater efficiency. Turbo Boost 2.0 Turbo Boost is a dynamic performance technology that automatically increases the speed of the active cores — up to 3.4GHz. Turbo Boost 2.0 is even more dynamic and efficient. By shifting core frequency in smaller increments than before, it allows the processor to manage performance without sacrificing efficiency. Hyper-Threading Hyper-Threading is now standard on every MacBook Pro. This technology allows two threads to run simultaneously on each core, so Mac OS X recognizes eight virtual cores on a quad-core processor and four on a dual-core processor. When you're running multiple applications at once, the processor spreads tasks more evenly across a greater number of cores. Integrated memory controller With faster access to memory, each core can get right to work on your data, rather than waiting for it to arrive. That's why the new Intel Core architecture uses an integrated memory controller to connect fast 1333MHz memory directly to the processor. Together with up to 8MB of shared L3 cache, the integrated memory controller helps your applications run at peak performance. Energy-efficient graphics Thanks to the new microarchitecture, the graphics processor is on the same chip as the central processor and has direct access to L3 cache. That proximity translates into performance. The graphics processor also automatically increases clock speeds for higher workloads. An integrated video encoder enables HD video calls with FaceTime, while an efficient decoder gives you long battery life when you're watching DVDs or iTunes movies.
Size and weight:

Height: 0.95 inch (2.41 cm) Width: 12.78 inches (32.5 cm) Depth: 8.94 inches (22.7 cm) Weight: 4.5 pounds (2.04 kg)
Connections and expansion:
MagSafe power port Gigabit Ethernet port FireWire 800 port (up to 800 Mbps) Two USB 2.0 ports (up to 480 Mbps) Thunderbolt port (up to 10 Gbps) Audio in/out SDXC card slot Kensington lock slot

802.11n Wi-Fi wireless networking (based on IEEE 802.11n specification); IEEE 802.11a/b/g compatible Bluetooth Bluetooth 2.1 + EDR (Enhanced Data Rate) wireless technology 10/100/1000BASE-T Gigabit Ethernet (RJ-45 connector)
Stereo speakers with subwoofer Omnidirectional microphone Combined headphone/line in (supports digital output) Support for Apple iPhone headset with microphone
Environmental Status Report:
MacBook Pro is designed with the following features to reduce its environmental impact: Highly recyclable aluminum and glass enclosure Mercury-free LED-backlit display Arsenic-free display glass BFR-free PVC-free Reduced packaging volume Meets ENERGY STAR Version 5.0 requirements Rated EPEAT Gold
13.3-inch (diagonal) LED-backlit glossy widescreen display with support for millions of colors Supported resolutions: 1280 by 800 (native), 1152 by 720, 1024 by 640, and 800 by 500 pixels at 16:10 aspect ratio; 1024 by 768, 800 by 600, and 640 by 480 pixels at 4:3 aspect ratio; 1024 by 768, 800 by 600, and 640 by 480 pixels at 4:3 aspect ratio stretched; 720 by 480 pixels at 3:2 aspect ratio; 720 by 480 pixels at 3:2 aspect ratio stretched
Graphics and video support
Intel HD Graphics 3000 with 384MB of DDR3 SDRAM shared with main memory5 Dual display and video mirroring: Simultaneously supports full native resolution on the built-in display and up to 2560 by 1600 pixels on an external display, both at millions of colors FaceTime HD camera Thunderbolt port
Thunderbolt digital video output:
Native Mini DisplayPort output DVI output using Mini DisplayPort to DVI Adapter (optional) VGA output using Mini DisplayPort to VGA Adapter (optional) Dual-link DVI output using Mini DisplayPort to Dual-Link DVI Adapter supports 30-inch Apple Cinema HD Display (optional) HDMI audio and video output using a third-party Mini DisplayPort to HDMI Adapter
Full-size backlit keyboard with 78 (U.S.) or 79 (ISO) keys, including 12 function keys and 4 arrow keys (inverted "T" arrangement) Multi-Touch trackpad for precise cursor control; supports inertial scrolling, pinch, rotate, swipe, three-finger swipe, four-finger swipe, tap, double-tap, and drag capabilities
2.3GHz dual-core Intel Core i5 processor with 3MB shared L3 cache or 2.7GHz dual-core Intel Core i7 processor with 4MB shared L3 cache 4GB (two 2GB SO-DIMMs) of 1333MHz DDR3 memory; two SO-DIMM slots support up to 8GB Standard Configurations: 2.3 GHz or 2.7 GHz
320GB or 500GB 5400-rpm Serial ATA hard drive; optional 500GB 5400-rpm hard drive or 128GB, 256GB, or 512GB solid-state drive6 8x slot-loading SuperDrive (DVD±R DL/DVD±RW/CD-RW) Maximum write: 8x DVD-R, DVD+R; 4x DVD-R DL (double layer), DVD+R DL (double layer), DVD-RW, DVD+RW; 24x CD-R; 10x CD-RW Maximum read: 8x DVD-R, DVD+R, DVD-ROM; 6x DVD-ROM (double layer DVD-9), DVD-R DL (double layer), DVD+R DL (double layer), DVD-RW, DVD+RW; 24x CD
up to 7 hrs wireless web Built-in 63.5-watt-hour lithium-polymer battery 60W MagSafe Power Adapter with cable management system MagSafe power port
Electrical and operating requirements:
Line voltage: 100V to 240V AC Frequency: 50Hz to 60Hz Operating temperature: 50° to 95° F (10° to 35° C) Storage temperature: -13° to 113° F (-24° to 45° C) Relative humidity: 0% to 90% noncondensing Maximum operating altitude: 10,000 feet Maximum storage altitude: 15,000 feet Maximum shipping altitude: 35,000 feet
The new 13-inch MacBook Pro, 15-inch MacBook Pro and 17-inch MacBook Pro are available through the Apple Store, Apple's retail stores and Apple Authorized Resellers. The 13-inch MacBook Pro is available in two configurations: one with a 2.3 GHz Dual-Core Intel Core i5 and 320GB hard drive starting at $1,199; and one with a 2.7 GHz Dual-Core Intel Core i5 and 500GB hard drive starting at $1,499.
Configure-to-order options include faster quad-core processors up to 2.3 GHz, additional hard drive capacity up to 750GB, solid state storage up to 512GB, more memory up to 8GB DDR3, antiglare and high-resolution display options and AppleCare Protection Plan. Additional technical specifications and configure-to-order options and accessories are available online at www.apple.com/macbookpro.
Save on new MacBook Pros through Apple's Resellers
Several Apple Authorized Resellers have also begun discounting the new MacBook Pros and AppleInsider expects to offer discount coupons within the next few hours. Exact pricing will automatically update in our Mac Pricing Guide, the MacBook Pro section of which is included below: