Apple delays iOS 4.3 for CDMA Verizon iPhone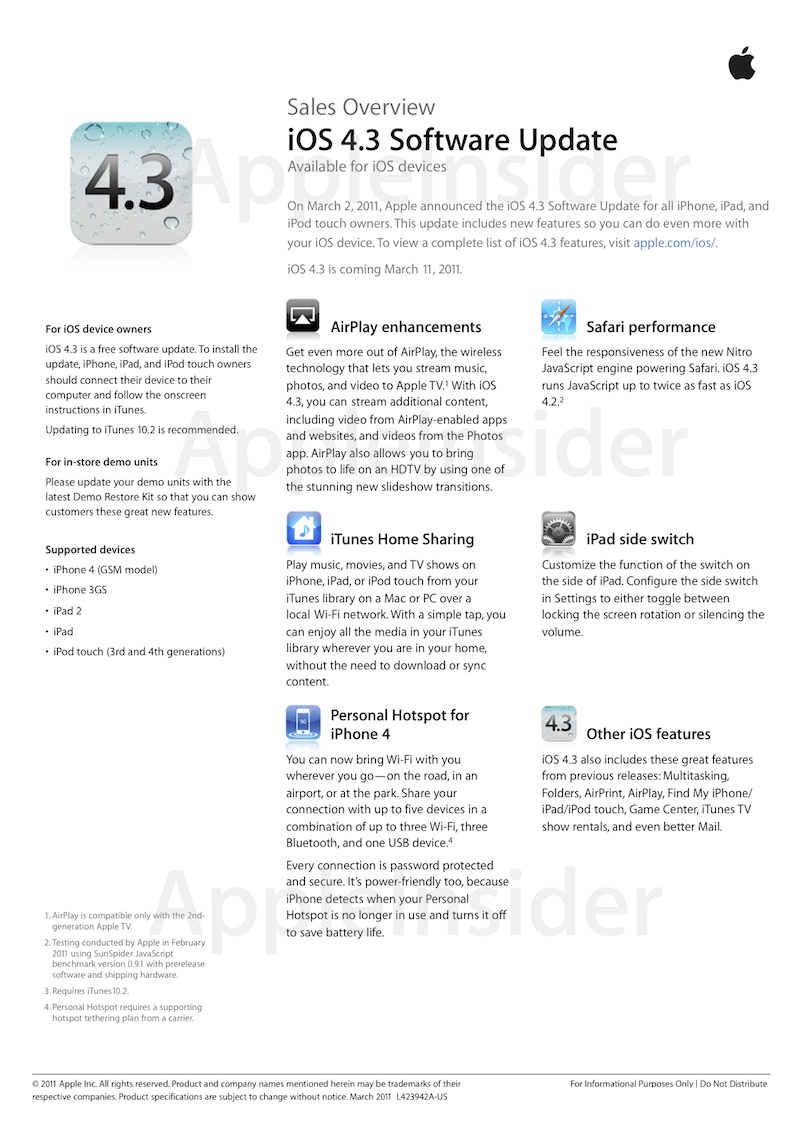 In announcing the release of iOS 4.3 on March 11, Apple has explicitly excluded CDMA iPhone 4 from the list of supported devices, indicating that a separate build will be provided afterward.
The new iOS 4.3 release will officially support the 2009 iPhone 3GS, the GSM iPhone 4, third and fourth generation iPod touch, and iPad models. This leaves out the CDMA iPhone 4 as well as Apple TV (which is normally updated on its own, independent schedule).
The Verizon iPhone 4 was released using its own software build, labeled iOS 4.2.5. Other iOS devices remained at iOS 4.2.1, which was released in November. Apple subsequently updated Verizon iPhones to iOs 4.2.6 to fix a bug related to its new Personal Hotspot feature.
Apart from the brief exclusive of its Personal Hotspot feature, the Verizon iPhone is being updated separately because it uses a different baseband chip than other iPhones, requiring a separate firmware. Apple may be waiting for Qualcomm to deliver a specific update for the chip before integrating the new firmware into the iOS release for that model.
Apple hasn't announced a date for the Verizon iPhone release version of iOS 4.3, but it is likely to follow shortly after the initial release for GSM iPhones because the new build packs a variety of features and improvements.
New major features in iOS 4.3
The general features provided to all iOS devices by iOS 4.3 include Personal Hotspot (WiFi tethering), which Verizon iPhone users already have. However, there are also a number of other significant new improvements Verizon iPhone users will want, including:
• Improved Safari JavaScript performance using the Nitro engine, which Apple says boosts JavaScript execution up to twice as fast. JavaScript powers much of the interactivity of modern web apps.
• Support for AirPlay video streaming by third party apps, as well as videos within the web browser or within the Photos app. Streamed photos also use slideshow transitions.
• The ability to locally stream (without downloading or syncing) any content from your iTunes library via Home Sharing: music, movies, TV, podcasts, or audiobooks.
New minor features in iOS 4.3
Additionally, there are a variety of smaller tweaks and updates included in iOS 4.3:
• A new Noteworthy font in Notes
• Fixes a slideshow stop after 15 image when using AirPlay
• The ability to cancel and delete an app that is downloading. It is currently only possible to delete an app that has been installed.
• A slightly redesigned keyboard; missing accented letters in European keyboard popups; increased font size for China and Pinyin inputs
• A new Parental Controls setting for the iTunes Ping social network
• A new menu for scrubbing in videos, with Fine Scrubbing by seconds/frames; Quarter Scrubbing by second; Half Speed Scrubbing by minute and Hi-Speed Scrubbing by minutes.
• A new Updates section in the App Store and new Accounts section in the Store menu.
• Location Services settings moves from General to Settings Menu, and both Location Services and Mail accounts ON/OFF button is changed to a lock symbol.
Some minor features (outside of Personal Hotspot) and bug fixes are also targeting just GSM iPhones:
• Baseband is updated to 05.16.00 (for iPhone 3GS), 04.10.01 (for GSM iPhone 4)
• Enabled Traffic Volume Indicator IE in CELL UPDATE; fixes issue with integrity protection failing after SRNS relocation and iPhone units deactivating and not activating after baseband logging is enabled
• A control to set repeat of text tone (up to 10 times)
• Automatic refresh of information displayed in Field Test Mode (removing manual refresh)
• Slideshow options have moved to Photos app
• New Contact photo user interface
• Dual vibrate when receiving a text message
A variety of minor changes and bug fixes are also addressed in iOS 4.3:
• Accessibility: Voice Over now reads the entire chart in stocks app while in landscape mode. Fixed issues that prevented controls from being dismissed, or that prevented the keyboard from returning when highlighting and swiping through search results
• Calendar: deleting a recurring event now make the alarm go away; fixed an all-day alarm going off an hour early. Canceled recurring CalDAV calendar events now removed on the event list. Fixed Exchange calendar event duplicating when passing Israeli daylight savings time.
• Language: updates inconsistent translations in Chinese, Finnish, Norwegian, Korean, Dutch, Polish, Portuguese; fixes auto-correction issue when switch back from Emoji to English keyboard
• Mail: fixes orientation of Mail not following device orientation under specific conditions; fixes popover when drilling into a thread while the empty search field is focused; fixes mail message view and orientation when quickly selecting a message and hitting edit mode
• Safari: addresses issue that caused browser to crash after loading certain websites