Walmart, Best Buy advertise availability of Apple's iPad 2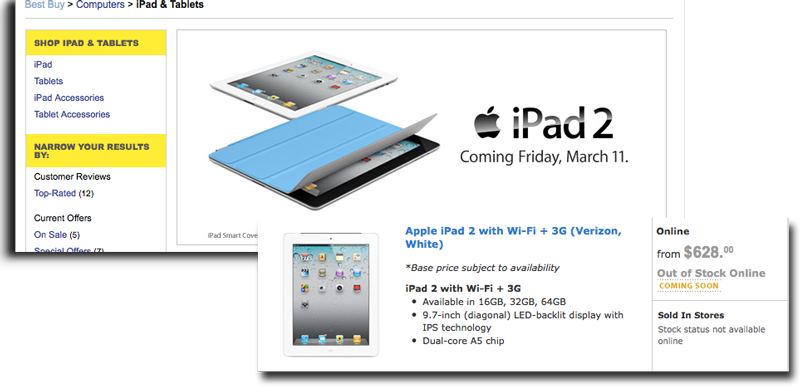 AppleInsider may earn an affiliate commission on purchases made through links on our site.
In addition to Apple's retail stores, Best Buy will sell the iPad 2 on its March 11 launch day, while Walmart has also advertised the second-generation tablet but has not confirmed a sale date.
On the "iPad and tablets" section of its website, retailer Best Buy this week began advertising the new iPad 2 and its magnetic Smart Cover. The ad reads "Coming Friday, March 11," suggesting that Best Buy will begin sales of the iPad 2 at the same 5 p.m. launch scheduled for Apple's retail stores.
Those who go to an Apple or Best Buy retail store on March 11 will get the first chance to get their hands on the iPad 2. Apple revealed on Wednesday that online sales of the iPad 2 will not begin until March 11, ensuring that those who want to get the iPad first will need to line up at a retail store next Friday.
In addition, America's largest retailer, Walmart, has also begun listing the iPad 2 in its online inventory. The unreleased product is listed as "Out of Stock," but also advertised as "Coming Soon."
Walmart's site does not make any mention of the March 11 launch date, and the retailer has not given any indication whether it will have the touchscreen tablet available at launch.
Best Buy was a launch partner with Apple for the first iPad when it went on sale in the U.S. last April. Walmart eventually joined the fray and began iPad sales in in mid-October of 2010.
Walmart could be joined by other sales channels, like carriers Verizon and AT&T or retailer Target, in potentially offering the iPad at launch or soon after. If that comes to be, it would be a much quicker expansion of distribution than with the first-generation iPad.
Earlier this week, NPD Vice President of Industry Analysis Stephen Baker said he believes that expanded distribution of the iPad 2 will help Apple find continued success with its touchscreen tablet in 2011. He suggested that the Cupertino, Calif., company even explore alternative partnerships with department and home stores like Kohl's or Bed Bath & Beyond.