Inside AT&T vs Verizon iPad 2 data service plans [u]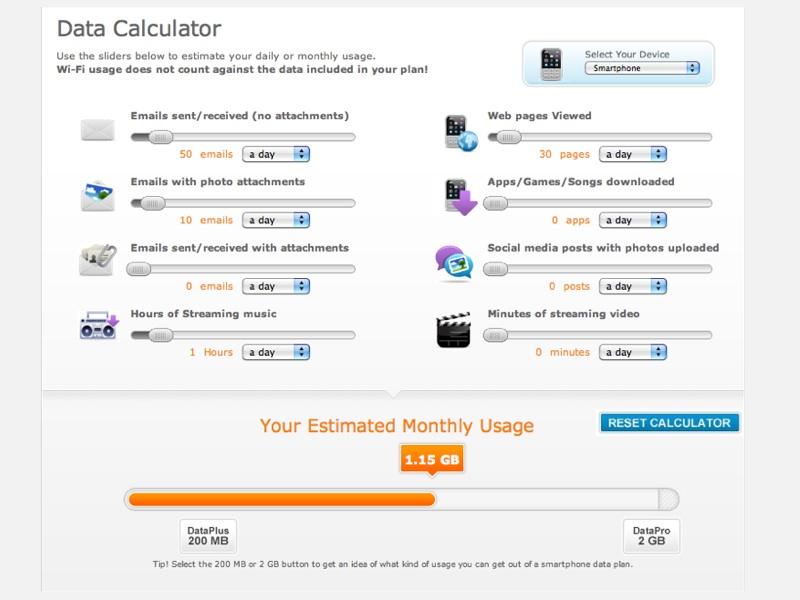 Apple is offering iPad 2 in two carrier options within the US, but AT&T and Verizon's plans differ significantly [update: Verizon's iPad plan has no activation fees].
AT&T continues to offer its no commitment plan that users can start or stop anytime without incurring any fees. While it originally offered an unlimited 3G data plan for iPad users, it currently only offers a 250MB cap for $15 and a 2GB plan for $25.
In addition to 3G data service, AT&T also offers access to its network of WiFi hot spots to its DataConnect plan users (use of which does not count against the data limits). The carrier is also running a special offer of a free month of base service worth $25, and is also currently selling the original iPad models at $100 off, meaning the entry level 16GB iPad 3G is now $529.
Users who go over their data limit are hit with either a $15 charge per each 250MB increment on the smaller plan, or a $10 charge per each additional 1GB on the larger option. AT&T sends its users warning messages when they hit 65, 90 and 100 percent of their data plan. The company provides an interactive calculator to help users estimate how much data they're likely to need based on their use.
When roaming in Canada or Internationally, AT&T's data plans quickly get unreasonable. Data in Canada is billed at 15 tenths of a cent per KB, which is $15 per megabyte or well over $15,000 per GB. Roaming in other countries is 19.5 tenths of a cent per KB, or $19.50 per MB. You will not want to check your email on that, let alone browse the web, although it should be possible to use iPad 2 with existing prepaid SIM cards in other countries.
Verizon Wireless previously offered the original iPad WiFi bundled with a MiFi device that relayed its 3G service to the device. That hardware cost extra, driving the bundle price of the entry level 16GB iPad WiFi to $630. Unlike AT&T, Verizon is not yet advertising the $100 cheaper new price Apple set for the original iPad.
With iPad 2, Apple now offers a CDMA model Verizon can sell directly. Like AT&T, Verizon offers contract-free plans users can start and stop whenever they want. It offers a minimum 1GB plan for $20, or a 3GB plan for $35. Going over the data limit on the lesser plan costs $20 per GB, while the bigger plan charges only $10 per GB for extra use.
Update: Verizon typically charges a $35 activation fee to start using their service, which is as much as or more than a month of service. While a company representative couldn't initially confirm to AppleInsider whether iPad 2 would involve the same activation fee the original model bundled with its MiFi did, Andrew Munchbach of Boy Genius Report received confirmation from Verizon that there are no activation or reactivation fees for iPad 2 users.
"There are no activation fees with the iPad 2," a company representative said in an e-mail. "Customers can switch from having data one month to using wifi the next and back to data without activation fees."
Just like AT&T, Verizon's foreign roaming charges are similarly unreasonable, but the Verizon iPad 2 won't work in other countries using a prepaid SIM because it doesn't support GSM-style SIM cards.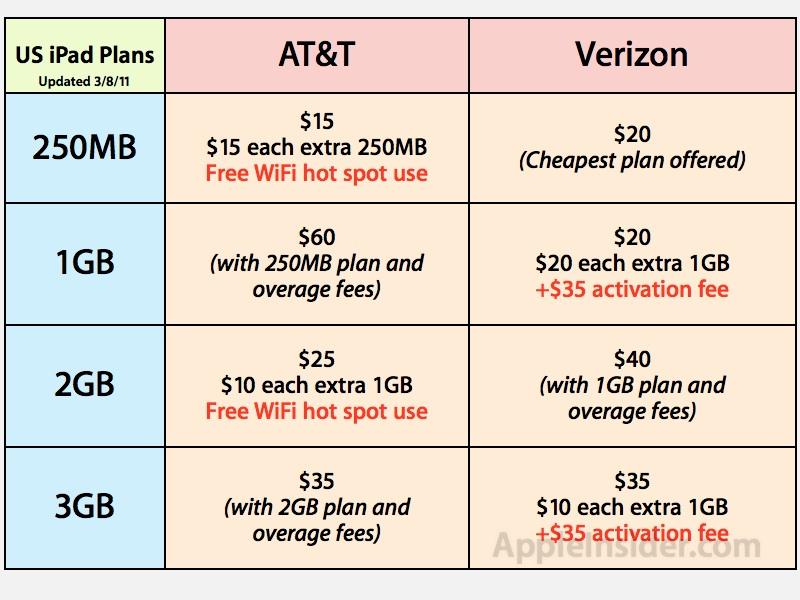 Whether to tether: (Updated)
For existing smartphone users on either network, a tethering plan that provides WiFi data service for iPad would seem to make more sense than buying separate data service.
AT&T's tethering plan costs $20 extra per month and now adds 2GB of data to your allotted 2GB smartphone plan, with each extra GB costing another $10.
That's more flexible but roughly matches Verizon's tethering plan, which charges a $20 fee and adds another 2GB of data service exclusive to tethered devices.
Those charges are the same prices the carriers charge for just 1GB of direct data service. Sticking with a tethered WiFi iPad also saves $130 off the iPad hardware as well.