$500 target slapped on Apple as iPad seen dominating $120B tablet market by 2015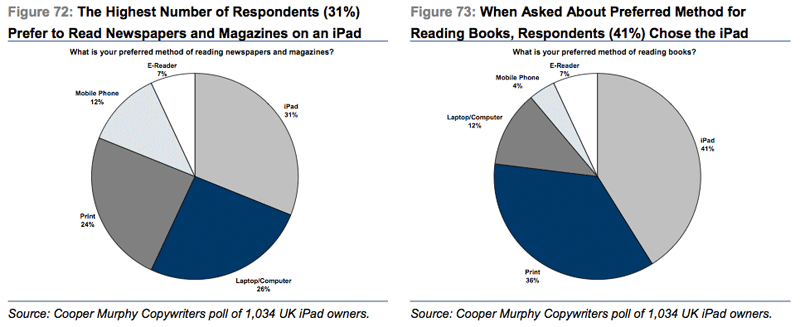 Posing the question of whether Apple is the "most valuable company in the world," Credit Suisse on Thursday initiated coverage of the iPad maker with a $500 price target, saying it believes Apple is well positioned to command a majority share of a booming tablet market expect to grow to $120 billion over the next four years.
In his inaugural note to clients, analyst Kulbinder Garcha concluded that Apple should be able to deliver extensive revenue and earnings growth of 50% and 46%, respectively, over the next two years, given that all indicators suggest the company will easily sustain its competitive advantage through its integrated ecosystem of software, hardware and services.
"[T]hree years after the launch of its first iPhone, we believe few handset vendors come close to the quality of Apple's hardware, software, and services," he wrote. "We also expect the company's services offering to evolve along with its device portfolio."
To that end, the analyst noted that the success of the iPad only reinforces the notion of increased user loyalty, which could translate to more stable market share in Apple's handset business. As it stands, Garcha's proprietary analysis for tablets indicates that the segment could rise to $120 billion market by 2015, and he expects Apple will maintain a share as high as 50% by that time, given its aggressive pricing, time to market advantage and a software edge.
"This means that iPad should become a $34 billion business by [fiscal 2012]," he wrote. "Further, our proprietary bill of materials (BOM) analysis implies that gross margins for this business will expand to 35% by [the end of fiscal 2011] from around the 27% levels seen in fiscal 2010."
Looking ahead, Garcha identified four major paths that Apple could take which would result in incremental sales and per share earnings of $65 billion and $10.10, respectively, in 2015 when compared to 2010. The first of which is a low-end iPhone, which the analyst calls both "necessary and significant."
"We demonstrate that having successfully saturated the above $500 smartphone market with an 81% share and having grown this segment of the market by a factor of 2.8 since 2008, once distribution is built out, Apple's smartphone share is likely to plateau around volume of 120 million and global share of 12%," he wrote. Based on his proprietary market by price point and BOM analyses, Garcha believes the company could generate $26 billion in incremental sales and $6 billion in operating profit by 2015 versus 2010 — adding $4.47 in incremental per share earnings along the way — through the introduction of a more affordable handset.
More specifically, he said that it is both "necessary and advisable that a low-end iPhone is launched" over the next 12-18 months, adding that any fears of cannibalization of the company's high end devices should be more than offset by the volumes in which the low-end device is likely to sell.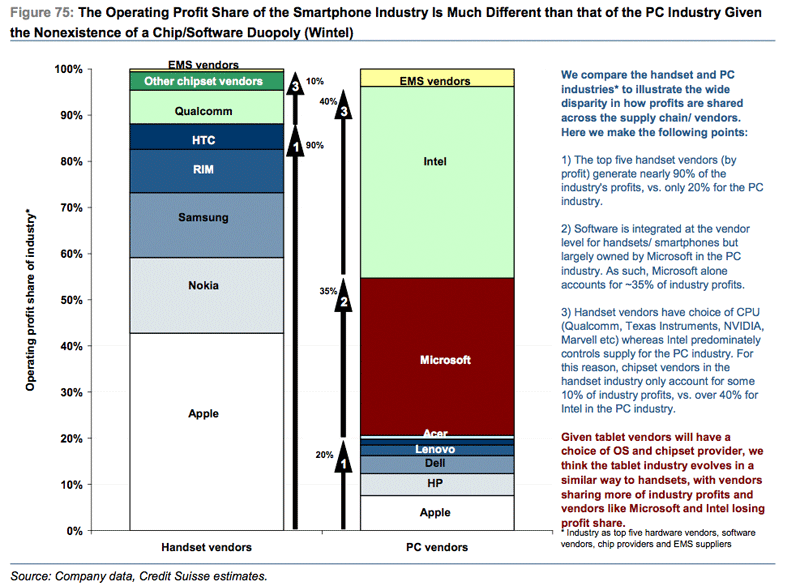 Another untapped growth driver singled out by the analyst would be a expansion of distribution through its retail segment in emerging markets. He notes that currently the company's maintains 236 brick and mortar shops, with only 4 of them existing in emerging markets: China.
"[B]y more aggressively building out an emerging market strategy and based upon current spend per capita on Apple products and income distribution, even after allowing for affordability issues, this could drive an incremental revenue opportunity of $19 billion from our 2010 levels along with $4.3 billion in operating profits and $3.16 in EPS," he wrote.
Meanwhile, penetration within the enterprise exists as a third major path to growth, according to Garcha. He notes that the Apple's share in the corporate world is significantly smaller than its consumer share in every product category where the company is a major player.
"We argue that the iPad's rapid adoption could prove to be a Trojan horse from which Apple could see more rapid corporate adoption across its product line," the analyst wrote. "Furthermore, our proprietary Credit Suisse IT Survey demonstrates that not only do CIOs rate the iPhone as the strongest of all platforms across metrics such as roadmap, distribution, and sales, but also that it is set for rapid adoption over the next 12 months."
Finally, Garcha said that while Apple has stated it is not interested in the TV market, he sees the company's services platform, operating system, and hardware strengths as potential drivers that could ultimately lead it to pursue the lucrative broadcasting market.
"We have refrained from estimating the revenue or earnings upside from this strategy, but given the run rate (now in other businesses) is in the billion — we think this could prove to be a large growth driver in the future," he wrote.