Amazon preempts Apple with cloud-based music service for Web and Android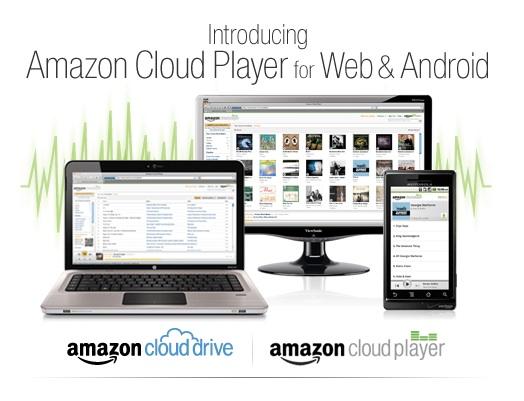 Amazon upped the ante in its fierce rivalry with Apple over control of the digital music market, with the introduction of a Cloud Drive digital locker and a Cloud Player service that offers streaming music via the Web and Android devices.
The Seattle, Wash.-based online retail giant unveiled the

">new cloud services

late Monday. The services are available for U.S. customers only.
"Our customers have told us they don't want to download music to their work computers or phones because they find it hard to move music around to different devices," Bill Carr, Amazon's vice president of movies and music at Amazon, said in a statement. "Now, whether at work, home, or on the go, customers can buy music from Amazon MP3, store it in the cloud and play it anywhere."
The

">Amazon Cloud Drive

service offers customers 5GB of free online storage, with premium accounts expandable up to 1000GB. Additionally, customers who purchase an MP3 album will be entitled to 20GB of storage for one year. New Amazon MP3 store purchases can be automatically added to Cloud Drive without counting toward total storage space.
The service accepts music purchased from iTunes, provided that the files are DRM-free. Apple removed DRM from iTunes music purchases in 2009.
Amazon Cloud Player is available either via the Web or on devices running Google's Android mobile operating system. The web player does not, however, support Apple's Mobile Safari on iOS devices.
Amazon's partnership with Google Android reflects an uneasy alliance against Apple, which established an early lead in the digital music and smartphone markets. Last week, the online retailer launched "Appstore for Android," a digital download service that will compete with both Apple's App Store and Google's Marketplace. A day before Amazon launched the service, Apple sued Amazon to protect its "App Store" trademark.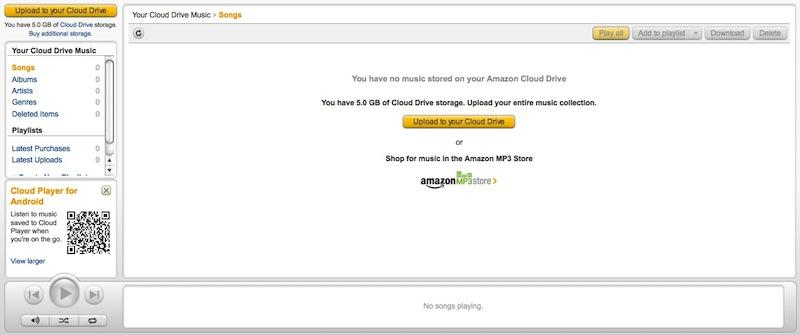 For its part, Apple has expressed interest in moving toward a streaming media solution, but has reportedly been held up in negotiations with record labels. In late 2009, the company purchased streaming music service LaLa, stoking speculation that Apple was preparing for iTunes in the cloud. An Apple-branded version of LaLa failed to materialize and the Cupertino, Calif., iPod maker shuttered the service in May 2010.
Apple transitioned the Apple TV to a streaming model last year when it introduced a $99 redesigned version of the set top box. The device launched alongside a new $.99 TV show rental option.
Recent rumors have suggested that a "major revamp" of Apple's iOS slated for this fall will add significant cloud-based services.
Apple has been busy putting the infrastructure into place for cloud services, investing more than $1 billion in a 500,000 square-foot data center that will support iTunes and MobileMe services. The server farm has experienced delays, however, and is expected to open this spring.