Intel will support USB 3.0 alongside 'complementary' Thunderbolt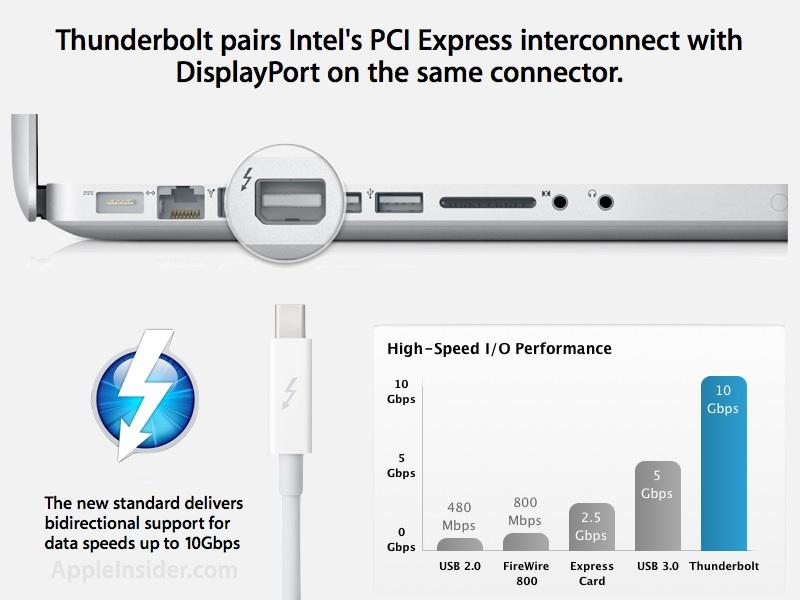 AppleInsider is supported by its audience and may earn commission as an Amazon Associate and affiliate partner on qualifying purchases. These affiliate partnerships do not influence our editorial content.
Intel and Apple's newly introduced high-speed Thunderbolt port won't be a direct competitor of the USB 3.0 standard. Rather, the two will be "complementary" to one another, Intel believes.
Intel announced this week that it will ship silicon that will support both USB 3.0 and Thunderbolt in 2012. According to CNet, Kirk Skaugen, vice president at Intel's Architecture Group, said he believes the two technologies are "complementary."
Support for both Thunderbolt and USB 3.0 will appear in Intel's next-generation chips, code-named "Ivy Bridge." Ivy Bridge is the successor to the "Sandy Bridge" processors that began shipping earlier this year.
Both Sandy Bridge and Thunderbolt debuted on Apple hardware with the new lineup of MacBook Pros that went on sale in February. The new Thunderbolt port, co-developed by Intel and Apple, features two bi-directional channels with transfer speeds up to 10Gbps each.
Formerly code-named "Light Peak," Thunderbolt's data transfer speeds are 20 times faster than the current, widely available USB 2.0 specification. Thunderbolt is also twice as fast as the not-yet-widesread USB 3.0 spec.
Despite the slower performance of USB 3.0, Intel has reportedly encouraged developers to support both the Thunderbolt and USB 3.0 standards with any external peripherals. Intel's 2012 Ivy Bridge chipsets will include support for USB .30 directly on the chip, which means USB support will be available on all machines, including laptops.