Sprinkler system flooding at Apple's Greenwich, Conn., store forces closure [u]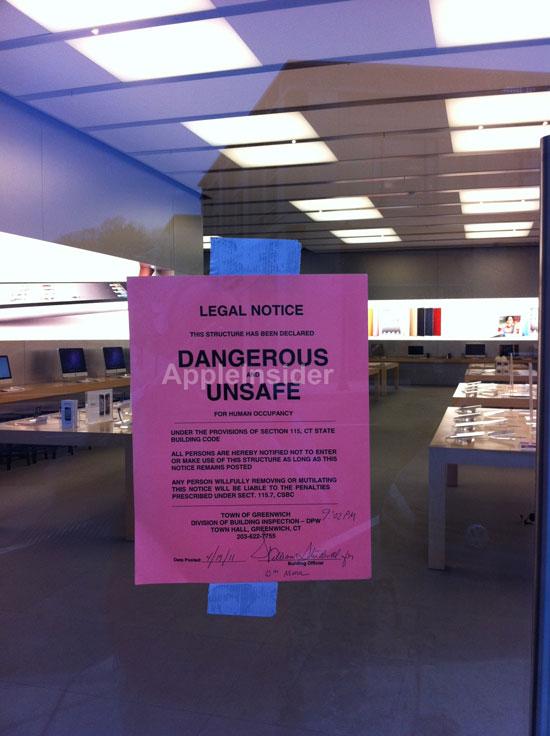 Apple has been forced to close its store in Greenwich, Conn., after an accident with the location's sprinkler systems flooded the store and left it "dangerous and unsafe for human occupancy."
A legal notice was spotted at the store this week and shared by reader Chris Southern with AppleInsider. The pink sign taped to the glass storefront is dated Tuesday, April 19, at 9:02 p.m., and it states that the building is in violation of Section 115 of Connecticut State Building Code.
Update: According to GreenwichTime, the building was shut down by officials after a sprinkler system accident was triggered by a cleaning crew on Tuesday night. The store will remain closed until further notice, and no timetable for reopening has been given.
Section 115 has a number of sections that refer to "unsafe equipment." It states that unsafe equipment cannot be operated after it has been declared unsafe by a building official. It also says that a building official can "seal equipment" and put it out of service if it is found to be unsafe.
Knowingly violating Connecticut building code Section 115 carries a fine of no more than $500, or a prison sentence of up to six months.
"All persons are hereby notified not to enter or make use of this structure as long as this notice remains posted," the sign posted at 356 Greenwich Ave. reads. Calls placed to the store Wednesday afternoon were met with a busy signal.
Apple built its store inside of an existing older brick building. AppleInsider shared exclusive photos of the construction in 2009.

Photo courtesy AppleInsider reader Chris Southern.
Apple's official page for the store makes no mention of its closing. Events like One to One, iPhone and iPad training and iMovie workshops remain scheduled for today and the coming days.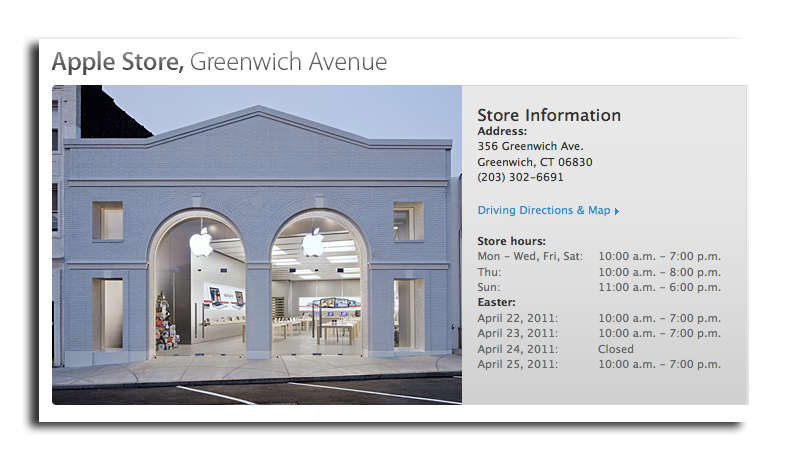 The Greenwich store opened in late 2009 in the U.S. hedge fund capital. It is located in a pricey destination that is home to many shops and restaurants.