Mac sales up 25% in Americas, 76% in Asia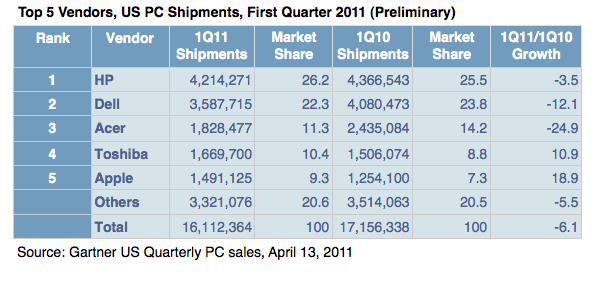 While the bulk of attention in Apple's earnings was focused on iPhone sales, Apple also experienced dramatic growth in Macs, despite slow PC sales globally and a shrinking market for PCs in the US.
Apple's chief operating officer Timothy Cook noted during the company's earnings call that "the growth of the Mac has been enormous in Asia. The last quarter, we were up 76 percent in Asia-Pacific, and this is many multiples of the growth that that region is seeing for the market. I believe the IDC forecast is around 6 percent. And so we're seeing enormous growth in the Mac there."
Cook also said that "Japan also did quite well on the Mac for the quarter, and the U.S. had a surprisingly strong quarter in the Mac, being up around… Americas was up 25 percent. The US was up just slightly higher than that."
Chief financial officer Peter Oppenheimer stated in his prepared remarks that "we established a new March quarter record, with sales with 3.76 million Macs, representing 28 percent growth over the year-ago quarter. We're extremely pleased with this very strong growth, particularly given IDC's most recently published estimate of a 3 percent contraction for the PC market overall."
Oppenheimer added that Apple "experienced strong Mac sales growth in each of our operating segments, most notably in the Asia-Pacific segment," explaining that "growth in Mac sales was fueled primarily by the continued great popularity of MacBook Air, which was updated in the December quarter, as well as very strong sales of MacBook Pro"
Cook later reiterated the potential upside for Apple's expansion, given its relatively small share of the overall market. "Our market share is obviously less outside the US in most places than it is in the US," Cook said. "And so I think that speaks very, very well to the opportunity that the Mac has. We've now had 20 quarters in a row where we've outgrown the PC market. And the momentum is still there, and we seem to be the only guys that are really focused on building innovative products in that space."
Cook drew particular attention to the growth potential in China. "Our focus has very much been on China," he said. "We wanted to understand that market and understand the levers there. And as I've said before, iPhone sales were up over three times during the quarter.
"And in the first half, we did over five – just slightly under $5 billion in Greater China in revenue, which is about 10 percent of Apple, to put it in perspective. And it wasn't but a couple of years ago that that number would have been less than $2 billion. And so it has been a sea change."
Market research companies IDC and Gartner have reported conflicting numbers of PCs sold in the US and globally, estimating Apple's share of the US market between 8.5 and 9.3 percent of all PCs in the first calendar quarter, and reporting year over year growth of between 9.6 and 18.9 percent.
Apple notes that its Mac sales were up more than 25 percent in the US, far higher than the growth figures estimated by either IDC or Gartner. Neither firm reported an estimate of Apple's global sales or growth, as both consider the company to be outside of the top five PC vendors they publicly detail, a feat gerrymandered by adding in the sale of millions of netbook mini-notebooks by competitors while excluding iPad sales numbers. Apple does not mix iPad numbers into its PC sales.