Priceline founder targets Apple's iPad in second patent lawsuit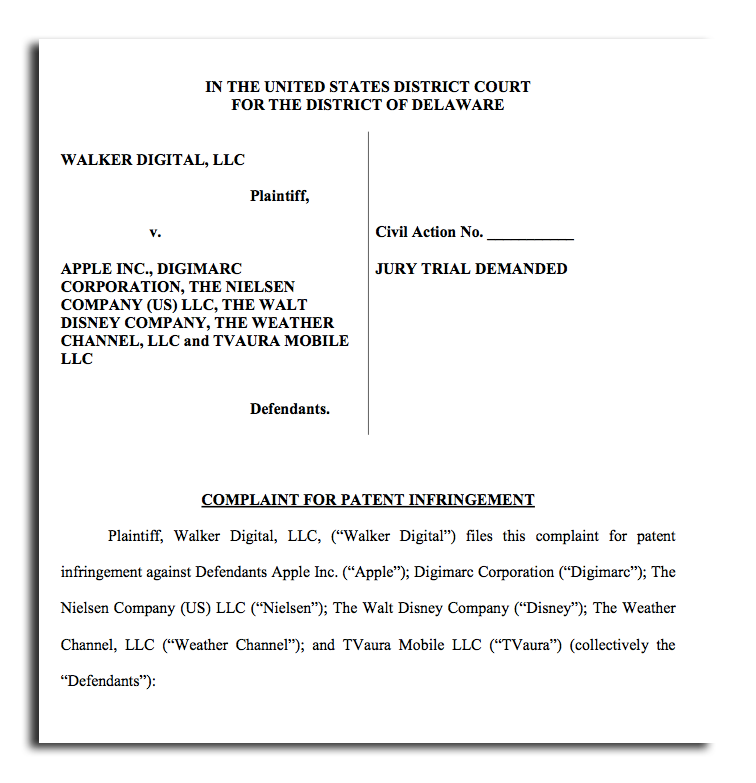 AppleInsider is supported by its audience and may earn commission as an Amazon Associate and affiliate partner on qualifying purchases. These affiliate partnerships do not influence our editorial content.
Walker Digital, founder of travel site Priceline.com, has filed its second patent infringement suit against Apple, taking aim at the iPad and a digital media application available for download on its App Store.
Filed last week, the complaint from Walker Digital accuses Apple of patent infringement alongside the Walt Disney Company, The Weather Channel, The Nielsen Company, Digimarc Corporation, and TV Aura Mobile. Walker Digital hopes to convince a court that the companies are in violation of U.S. Patent No. 6,263,505.
Walker Digital is the owner of the patent entitled "System and Method for Supplying Supplemental Information for Video Programs," granted by the U.S. Patent and Trademark office in July 2001. It describes a system that synchronizes additional media, such as separate audio or video, with a program that is being played either live or a recording that is being replayed.
Apple is named in the lawsuit not because of any applications it has made. Rather, the lawsuit names software that is available on Apple's App Store, including "From the Edge" and "ABC's Grey's Anatomy Sync," which can be run on the iPad.
Walker Digital's lawsuit says those applications have the ability "to receive a request from a viewer for supplemental information related to a video program (such as photos, behind the scenes video and/or character information), receive synchronization information relating to the video program, process the request for supplemental information, and transmit the synchronized supplemental information using the synchronization information."
The complaint, filed in a U.S. District Court in Delaware, alleges that an iPad with either of those applications installed on it is in violation of the '505 patent. Walker Digital has claimed to have suffered "severe and irreparable harm," and seeks an injunction against the defendants, along with appropriate damages.
The second lawsuit from Walker Digital against Apple has a list of defendants that is much more focused than the first complaint filed in court earlier this month. That lawsuit, which also alleges patent infringement, included Apple among more than 100 major technology companies, including Microsoft, Google, Amazon and Facebook.
Walker Digital was founded in 1994, and is best known for the creation of Priceline.com in 1998. The travel service went public in 1999 and the next year Jay S. Walker, founder of Walker Digital, left Priceline to focus on new ventures.
The plaintiff said that its inventions are covered by more than 450 issued and pending U.S. and foreign patents. In the lawsuit, Walker Digital alleges that its '505 patent "represents breakthrough technology in the field of consumer electronics."