Apple beats Microsoft in quarterly sales and profits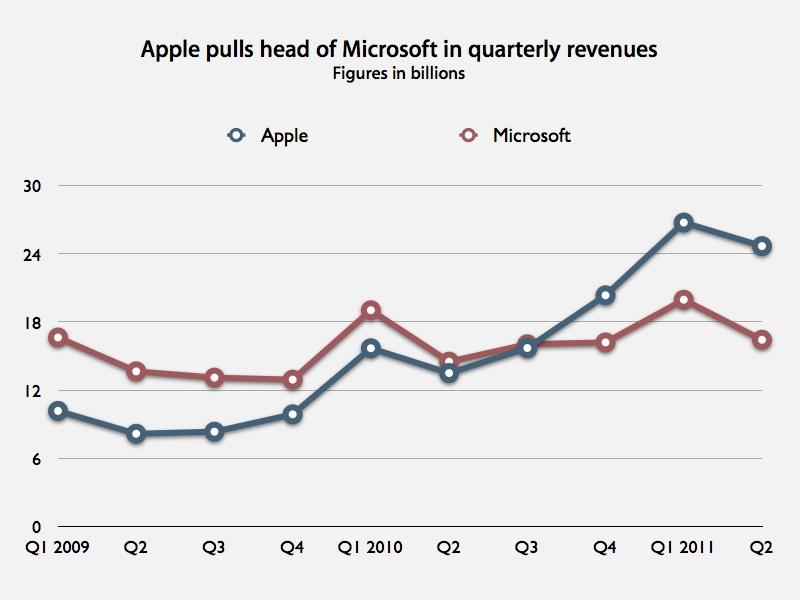 Apple's revenues and net earnings for the first calendar quarter of 2011 both beat the reported sales and profits of its rival Microsoft for the first time in recent history.
However, in the most recent quarter Microsoft has posted total revenues of $16.428 billion, compared to Apple's reported revenues of $24.67 billion, and net income of $5.232 billion compared to Apple's net profit of $5.99 billion.
Microsoft noted an increase in revenues over the year ago quarter of 13 percent, jumping from $14.5 billion to $16.4. In contrast, Apple's revenues were up 82.7 percent from $13.5 billion in the first calendar quarter of 2010.
Microsoft's net profits were up 30 percent from $4 billion a year ago, while Apple's profits were up 95 percent from just over $3 billion in the year ago quarter.
"We delivered strong financial results despite a mixed PC environment, which demonstrates the strength and breadth of our businesses," Peter Klein, Microsoft's chief financial officer said in a statement. "Consumers are purchasing Office 2010, Xbox and Kinect at tremendous rates, and businesses of all sizes are purchasing Microsoft platforms and applications."
Apple pulled into the lead ahead of Microsoft on strong sales of Macs (up 28 percent) and iPhones (up 113 percent). At Microsoft, its Business Division (responsible for Office sales) posted revenue growth of of 21 percent, while its Server and Tools group posted revenue gains of 11 percent.
Microsoft's strongest growth came from its hardware oriented Entertainment & Devices Division, which sells the Xbox 360 and its new Kinect motion controller peripheral, sales of which helped the formerly beleaguered group to post gains of 60 percent over the previous year.
The company noted "Windows 7 remains the fastest selling operating system in history with 350 million licenses sold," but did not draw attention in its press release to the fact that the company's Windows and Windows Live Division, which sells Windows, saw its revenues fall from the previous year ago quarter, from $4.65 billion to this year's reported $4.445 billion.
PC sales have been hit hard by the release of Apple's iPad, which has effectively erased a significant portion of the demand for general purpose PCs and therefore nullified the need for Windows among a key portion of the new hardware being bought by consumers and businesses in the Fortune 500.