Apple beats Microsoft in fall quarterly revenues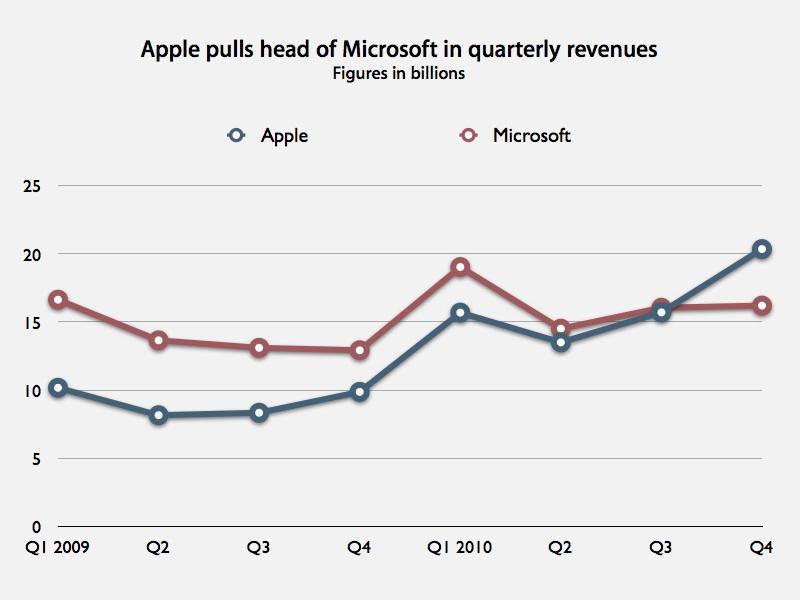 This summer Apple only approached Microsoft in revenues, but in the fall quarter, the iPhone maker has handily beat its partner and rival after reporting a new record of $20.34 billion in revenues compared to Microsoft's $16.20 billion for the fall quarter.
In the spring, Apple surpassed Microsoft in market capitalization, which is the value placed on the company by its investors in the open market. But this quarter is the first time in a decade and a half that Apple has brought in more revenue.
In fact, Apple's new peak just above $20 billion in quarterly revenues surpassed Microsoft's best quarterly revenue performance ever, when the company just exceeded $19 billion in revenues.
Very different businesses
Apple's business is vastly different than Microsoft's, with most of the company's income coming from consumer hardware products, supported by growing sales of music and software.
Microsoft makes the majority of its revenues from licensing deals with PC makers and corporations (market segments where Apple is either weak or doesn't even seek to enter) and, conversely, has repeatedly failed to find much success in the competitive consumer markets Apple has done so well in over the past several years.
Microsoft reported that the biggest chunk of its quarterly earnings came from sales of Office within its Microsoft Business Division, which brought in $5.13 billion. The company's Windows & Windows Live division, historically the company's strongest leg, booked revenues of $4.79 billion.
The company's Server and Tools Business reported $3.55 billion, while its unprofitable Online Services Division (Bing) brought in 527 million and its Entertainment Devices Division (Xbox, Zune, Windows Phone) reported revenues of $1.8 billion.
In contrast, Apple reported $8.8 billion in revenue from iPhone, $2.8 billion from iPad, and $1.4 billion from iPod sales, $1.2 billion in music related products and services in iTunes, and about $1 billion in software, services, and peripherals, leaving about $4.9 billion in revenue from Macs (Apple's retail business accounted for $3.5 billion of those revenues).
Microsoft still ahead in profits
While Apple is now larger in market cap and revenues, Microsoft continues to make greater profit margins on its software-centric business than Apple does on its mostly hardware and retailing business. Microsoft reported quarterly profits of $5.41 billion compared to Apple's reported profits of $4.31 billion.
While Apple's competitive outmaneuvering of Microsoft's aspirations in smartphones, media devices and tablets humiliated the Zune and Tablet PC, and has left its Redmond-based rival scrambling to reinvent its sagging Windows Mobile platform as "Windows Phone," the two companies are also working together as partners.
Microsoft just delivered what most critics have described as the best version of Office ever released for Mac OS X, and has also launched new software intended to sync Windows Phones with iPhoto and iTunes on the Mac.
Apple and Microsoft have also acted in concert to derail the cheap netbook, with Apple diverting attention to its iPad and higher end MacBooks, while Microsoft independently announced plans to push PC makers toward higher priced targets, successfully converting cheap netbooks into more expensive low end notebooks.