Google sets sights on enterprise, education with subscription 'Chromebooks'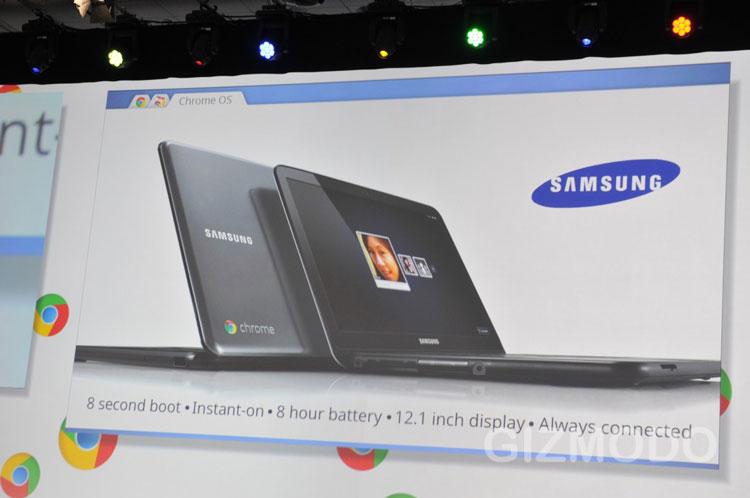 AppleInsider may earn an affiliate commission on purchases made through links on our site.
Google announced on Wednesday that it will offer subscription "Chromebooks" running its Chrome OS Web-based operating system at a cost of $28 per month for business users, and $20 per month for students.
Google made the announcement to developers at its I/O 2011 conference, where it showed off two Chromebook hardware options launching this June. Samsung will sell a ChromeOS-powered computer with a 12.1-inch screen and instant-on capabilities for $429, or $499 with 3G connectivity, while Acer has a 11.6-inch model starting at $349.
But business and education customers will be able to bypass standard purchasing options and instead subscribe to Chrome OS. The search giant announced that government and small business customers will be able to subscribe for $28 per month, while students will pay $20 per month.
Paying a monthly fee will allow Google to offer a complete hardware and service package that includes the hardware, technical support, warranty, and replacements. And when the hardware lifecycle is over, Google will automatically upgrade users to new hardware at no extra cost.
Google Chromebooks from Samsung. Google I/O photos via Gizmodo.
The new Chromebooks will be available starting June 15 in the U.S., France, Germany, Netherlands, Spain, U.K. and Italy. Subscription plans will also be available for schools, businesses and governments in June.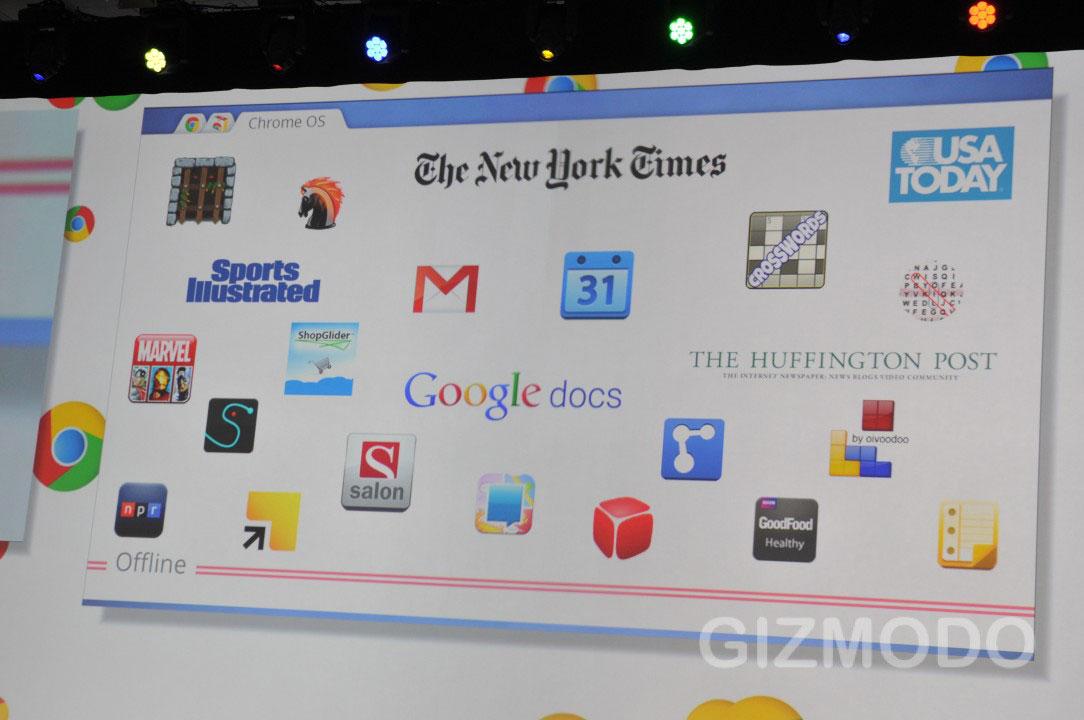 Google Chrome OS Web applications. Google I/O photos via Gizmodo.
Google showed off Chrome OS to attendees on Wednesday, pitching the new operating system as a browser-based solution that offers "Nothing but the Web." But content such as word processors and games like Angry Birds will be accessed within the browser, and can even be accessed when the device is not connected to the Internet.
Google also showed off the Chrome Web store, and revealed that it would take a flat fee of 5 percent from all transactions, leaving developers with 95 percent. That's higher than the 30 percent cut that Apple takes from App Store transactions for the iPhone and iPad.