Apple job posting hints at upcoming Sprint iPhone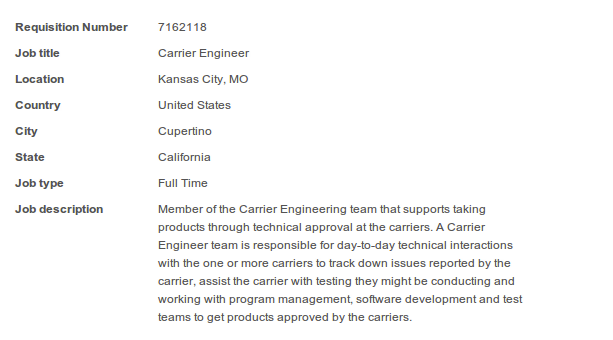 AppleInsider is supported by its audience and may earn commission as an Amazon Associate and affiliate partner on qualifying purchases. These affiliate partnerships do not influence our editorial content.
An Apple job listing for a "carrier engineer" located near the Sprint headquarters in Kansas City, Missouri, may point to the company's plans to add support for the carrier in an upcoming iPhone.
Last week, an analyst claimed that Apple will release an iPhone "4S" in September with minor changes and support for T-Mobile and Sprint. That assertion appeared to gain credibility on Monday when it was discovered that Apple had posted a job listing for a carrier engineer to be located in the Kansas City area, roughly 20 miles from Sprint's headquarters in Overland Park, Kansas.
Stop it, AT&T was first to report on the listing, though Apple appears to have changed the job's location back to its Cupertino, Calif., headquarters since the original post was published.
According to the listing, the carrier engineer team is "responsible for day-to-day technical interactions with the one or more carriers to track down issues reported by the carrier." The position also involves assisting the carrier with testing and "working with program management, software development and test teams to get products approved by the carriers."
The job requires a technical understanding and experience with GSM/GPRS, Edge, CDMA and UMTS. Sprint currently operates the country's second largest CDMA network.
After Apple ended its exclusive deal with AT&T and announced plans to release a CDMA-capable iPhone on the Verizon network, analysts speculated that Sprint would soon receive the CDMA iPhone. Apple revealed in January that its deal with Verizon for the CDMA iPhone is "non-exclusive."
Sprint has yet to offer any indication that it plans to begin offering the iPhone. In January, CEO Dan Hesse offered no comment when asked about a possible deal with Apple.