Apple's 'Retail 2.0' overhaul launches with interactive iPad displays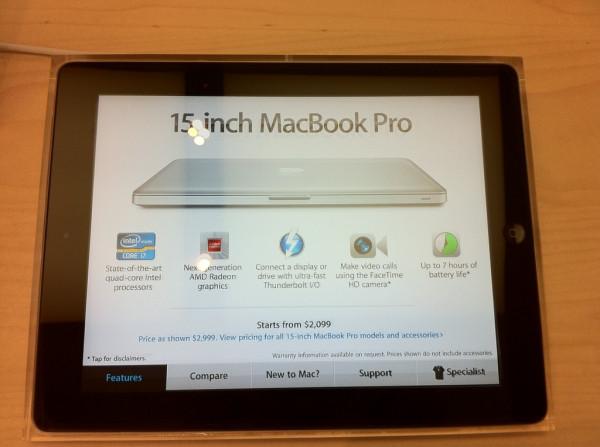 Apple retail stores have taken the wraps off Apple's new retail upgrade, which makes use of interactive iPad displays to provide product information, pricing and features.
Apple launched "Retail 2.0" on Sunday morning in commemoration of the 10th anniversary of Apple retail stores, as noted by Mac Prices Australia. The Cupertino, Calif., company opened its first retail stores on May 19, 2001, in McLean, Virginia and Glendale, Calif.
According to the report, the main change is the addition of stationary iPads placed next to other Apple products in order to display product prices, information and features. The touchscreen tablets can also be used to compare models and ask for help from a specialist. Photos of the new iPad display units reveal that the devices are placed in plexiglass.
The iPads appear to be running a custom software, as customers report that pressing the home button on the tablets does nothing. Though the power cable for the device does not appear to connect to the dock, one person familiar with the matter said the cable is indeed connected to the dock connector, but is "very well hidden." Also, detaching the cable will reportedly activate an alarm.
Some reports also suggested that Apple retail employees were wearing party hats to celebrate the occasion. Customers reported via Twitter that the Apple store updates created a "totally new experience."
Apple Retail 2.0 display iPad | Source: leoleakey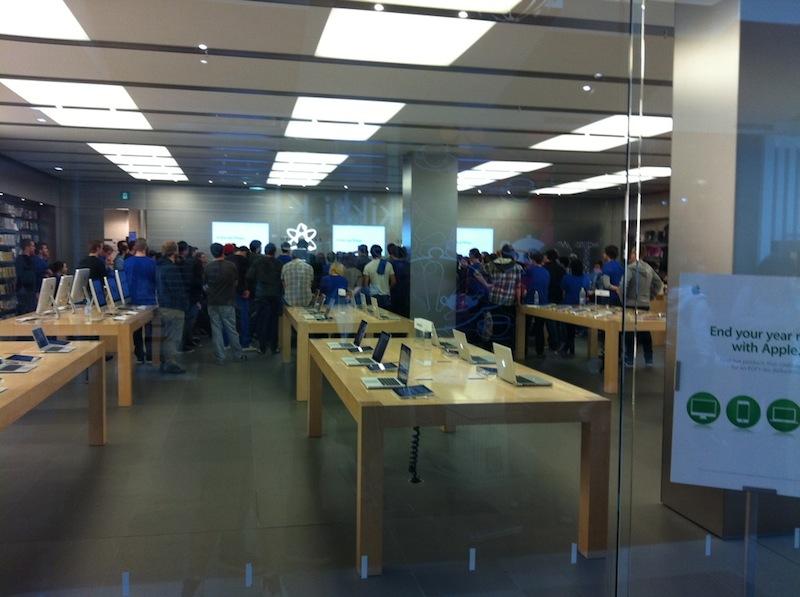 Apple Store in Brisbane | Source: Mac Prices Australia
AppleInsider revealed on Wednesday that Apple was stockpiling iPads in preparation for a retail overhaul. The new in-house iPads were due to be rolled out alongside an updated version of RetailMe, Apple's proprietary retail software.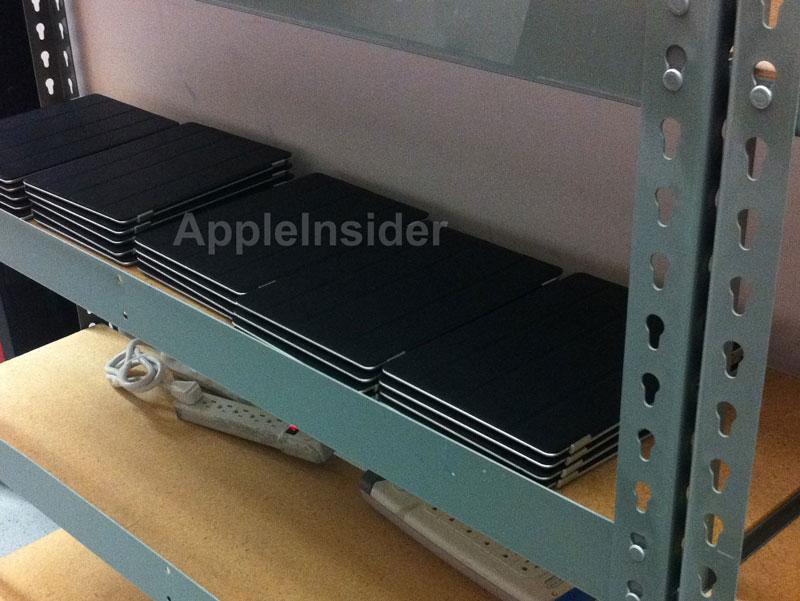 Apple reportedly scheduled overnight shifts for retail employees in preparation for the updates to the Apple store. AppleInsider was first to report in April that Apple was blocking employees from taking vacation from May 20 to May 22. Mandatory meetings have been scheduled on Sunday morning and evening for Apple retail staff.
Apple has also taken offline the Order Status page from its website until Sunday, May 22 in order to perform a system update.

A recent report claimed Apple will update its "Apple Store" retail app for iOS this weekend, adding full build-to-order purchasing options to the application. Apple first released the retail app last year with support for stock configuration orders.