Apple planning massive 12,000 employee 'spaceship' campus in Cupertino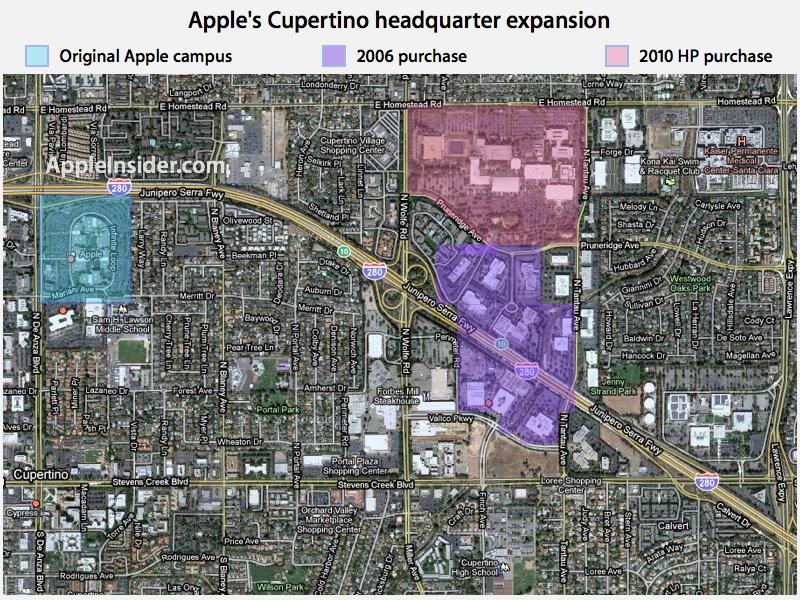 The day after giving a keynote at the Worldwide Developers Conference, Apple CEO Steve Jobs presented the company's plans for a second campus in Cupertino, Calif., which would feature a round building that would hold 12,000 Apple employees, to the city council.
"Apple's grown like a weed. And, as you know, we've always been in Cupertino. Started in a little office park and eventually got the buildings we are in now," Jobs said, as first noted by TechCrunch adding that the current campus at One Infinite Loop holds about 2,600 employees.
According to Jobs, Apple has almost 12,000 people in the area and has been forced to rent buildings "at an ever greater radius" form its headquarters. The new office building would augment the Infinite Loop facilities, rather than replacing them.
Apple has purchased roughly 150 acres for the new campus, with the bulk of the land coming from a land purchase from Hewlett Packard along Pruneridge Ave. Jobs noted that the land is "kind of special" to him because HP founders Bill Hewlett and Dave Packard were childhood "idols" of his.
"When I was 13, I called up Bill Hewlett because he lived in Palo Alto and there were no unlisted phone numbers in the phone book, which gives you a clue to my age," Jobs reminisced. "And he picked up the phone and I talked to him and asked him if he'd give me some spare parts for something I was building called a frequency counter. And he did, but in addition to that, he gave me something way more important. He gave me a job that summer, a summer job at Hewlett Packard right here in Santa Clara off 280 at the division that built frequency counters. And I was in heaven.
"As Hewlett Packard has been shrinking lately, they decided to sell off some property and we bought it," he continued.
Jobs said Apple had hired some of the best architects in the world to work on the design of the new campus. Apple expects to break ground on the facility next year in hopes of opening the campus in 2015.
"It's a little like a spaceship landed. "It's got this gorgeous courtyard in the middle, but it's got a lot more," Jobs said when he unveiled the design, noting later that Apple may "have a shot at building the best office building in the world. I think it could be that good."
"It's a circle, and so it's curved all the way around. There's not a straight piece of glass in this building. We've used our experience in building retail buildings all over the world. We know how to make the biggest pieces of glass for architectural use."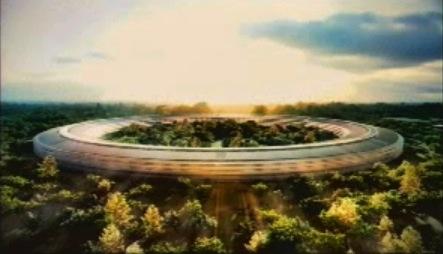 Jobs highlighted the fact that the new campus would consist of 80 percent landscaping, compared to the land's current ratio of 20 percent. Apple would nearly double the number of trees on the property from 3,700 to 6,000.
The facility and adjacent parking structure would be only four stories high in order to preserve the "human scale" of the campus. Apple also plans to supply its own power, using the city grid as backup.
The campus would have an auditorium for presentations, as well as a fitness center and separate R&D facilities. The space would take up 3.1 million square feet, with a main building footprint of 1 million square feet.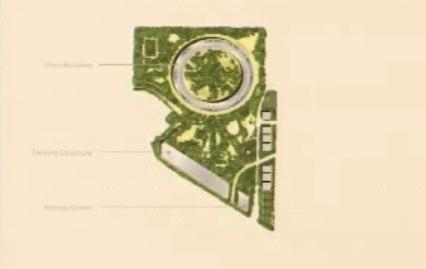 Mayor Gilbert Wong remarked after Jobs' presentation that "definitely the mother ship has landed here in Cupertino."
When asked what benefits city residents would gain from the campus, Jobs reminded the council that Apple is Cupertino's largest tax payer. "We'd like to continue to stay here and pay taxes. If we can't, we'd have to go somewhere like Mountain View and take our current people and over years sell the land."
Jobs also pointed out that Apple "employs some really talented people across the whole age spectrum." He described Apple employees as "fairly affluent" and likely to live near the campus.
When one councilwoman asked if free Wi-Fi for the city was a possibility, Jobs replied, "I'm a simpleton, I've always had this view that we pay taxes and the city pays to do this kind of thing. Now if we can get out of taxes, I'd be happy to put up Wi-Fi."
Apple had originally planned a smaller 50-acre second campus intended to house 3,000 to 3,500 employees, but was held up during the rezoning process. In 2009, the rezoning of the Pruneridge Ave property from residential to industrial use was approved. In 2010, Apple purchased the adjacent 98-acre HP property.