Facebook app for iPad reportedly coming in weeks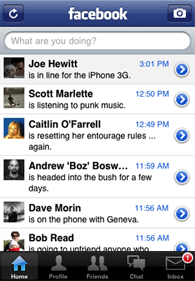 People familiar with the matter have indicated that Facebook will release an app optimized for the iPad in "coming weeks," while continuing work on an iPad-specific version of its website.
The New York Times reported Thursday that, according to people briefed on Facebook's plans, the social network's iPad app is in the "final stages of testing." The app has been in production for almost a year and should be available within weeks.
Facebook founder Mark Zuckerberg has reportedly been "heavily invested" in the process and has overseen design decisions and the app's unique features. Sources who have seen the application said it has a "slick design" specifically tailored for the iPad and its multi-touch interface. In particular, the company's developers have focused on overhauling the Facebook Chat and Facebook Groups features.
iPad 2 users will also be able to shoot and upload photos and videos directly from the built-in cameras. "The photo and video experience is amazing, offering full resolution and full-screen images," said a person who has seen the app.
Facebook declined to comment on the rumored app, though it did reiterate that it maintains "a great relationship" with Apple, as exemplified by the iPhone application, which launched alongside Apple's App Store in 2008.
According to the company, 250 million of Facebook's 700 million worldwide users access the service on a mobile device. Meanwhile, Apple has sold more than 25 million iPads since its initial release last year. Apple plans to help Facebook promote the forthcoming iPad app by "featuring it prominently" in the App Store, said a person familiar with plans for the app.
Sources also confirmed that Facebook is working on an improved iPad version of its website, but specific timing of the update remained unclear. The tipster did, however, emphasize that an upgraded website was meant to supplement the iPad and iPhone app experiences, rather than competing with them.
Rumors swirled on Wednesday that Facebook is hard at work on an HTML5 platform meant to "break the stranglehold" that Apple has on mobile app distribution. The company has reportedly lined up 80 developers on a secretive project that would help Facebook to retain control while still reaching the more than 200 million iOS devices Apple has sold.
The two companies have differed at times; for example, Apple was unable to agree to Facebook's terms for integration of Apple's Ping social music discovery service with its own social network. But, last year Apple CEO Steve Jobs was reported to have invited Zuckerberg over for dinner to discuss the issue.