Facebook looking to circumvent Apple's App Store with HTML5 platform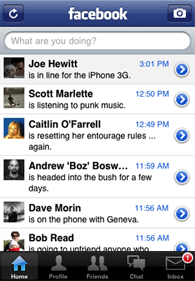 AppleInsider may earn an affiliate commission on purchases made through links on our site.
A new report claims social network Facebook is partnering with roughly 80 developers on a secretive "Project Spartan" HTML5-based application platform that would circumvent Apple's App Store on iOS devices.
TechCrunch's MG Siegler reports Facebook is coordinating the effort in order to maintain control over web apps without having to submit to the App Store terms. According to people familiar with the project, Facebook hopes "to use Apple's own devices against them to break the stranglehold they have on mobile app distribution."
Interestingly enough, Apple initially pushed the concept of web apps for mobile Safari on the iPhone, but eventually switched to the App Store model in 2008.
Siegler, who claims to have seen the project with his own eyes, describes "Project Spartan" as a mobile web version of Facebook with drop-down menus for new apps. Once loaded, those apps would be surrounded by a "Facebook wrapper" that would integrate with the social network, adding features such as Credits, the company's micropayment system.
Credits play a vital role in the in-development platform, as they would provide an alternative method for monetization to the App Store. Facebook is reportedly wooing third-party developer Zynga to the platform in hopes of accelerating the transition away from Adobe Flash and toward HTML5.
Though the project will serve to reduce developer reliance on Adobe Flash for gaming, "the real goal is to get people using Facebook as the distribution model for games and other apps, not the App Store (or any other distribution hub)," Siegler wrote.
Facebook began offering an app for the iPhone and iPod touch when the App Store launched, but has yet to release a native iPad app.
Apple and Facebook have cooperated in the past, but last year, Apple CEO Steve Jobs revealed that he was unable to agree upon a deal to tie the company's Ping music-centered social network into Facebook because of "onerous terms." According to one person familiar with the matter, the two companies were in talks for 18 months before negotiations broke down.
Last October, reports emerged that Jobs had invited Facebook CEO Mark Zuckerberg over for dinner to discuss the matter.
Some analysts view Apple's recent partnership with Twitter to provide system-wide integration in iOS 5 as a snub to Facebook. In April, a purported early "test version" of iOS 4 was spotted with system-level Facebook integration, fueling speculation that Facebook may have been Apple's "first choice" over Twitter.