High costs limiting adoption of Apple's AirPlay and Thunderbolt technologies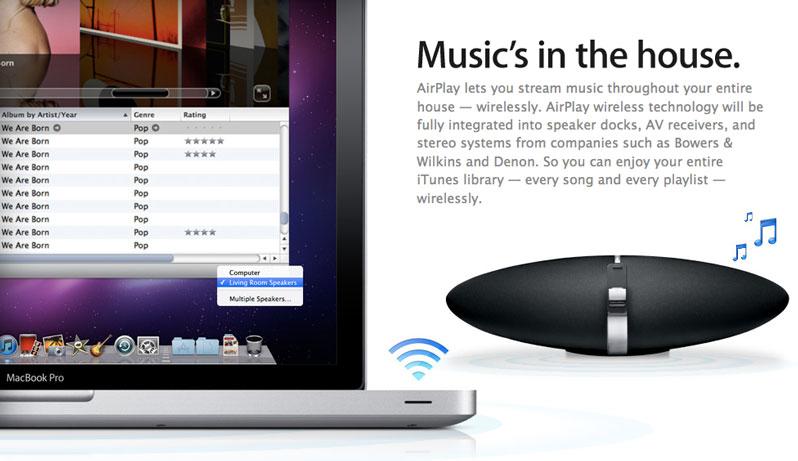 High overhead costs associated with adding Apple's new AirPlay and Thunderbolt technologies to devices are serving to limit adoption of those emerging standards by both Apple and third-party hardware manufacturers, according to a report which AppleInsider can corroborate.
In a discussion of the matter, iLounge cites sources at devices makers as stating that the cost of adding AirPlay music streaming support to a set of speakers translates to an approximate $100 surge in the price of those speakers by the time they reach end consumers.
As such, AirPlay is considerably more pricey from an implementation standpoint than adding Apple's standard Made for iPod (iPhone and iPad) Dock Connectors, and is therefore unlikely to turn up in reasonably-priced speaker systems in the near term.
Still, the Cupertino-based iPhone maker is said to be "very heavily pushing developers to adopt the wireless technologies despite the costs involved."
Similarly, the same report notes that the price of the components required to add a Thunderbolt port to an external hard drive "is roughly equal to the cost of a low-end hard drive itself," which may limit Thunderbolt's near-term adoption to products aimed at the professional market.
For these same reasons, it may take Apple slightly longer to add Thunderbolt support to worthy iOS devices like the iPad, which could explain the Cupertino-based company's decision to opt for Wi-Fi-based synchronization of iOS devices starting with this fall's release iOS 5.
For its part, AppleInsider has been able to corroborate iLounge's claims regarding AirPlay. The technology, which made its debut with iOS 4.2.1 last November, lets iOS devices wirelessly stream audio and video to compatible speaker systems, Apple TVs and audio receivers hooked up to an AirPort Express.
It works in conjunction with a chip supplied by BridgeCo, whom Apple joined forces with to promote AirPlay in the marketplace. But sources familiar with the matter note that the cost of the required BridgeCo WiFi module alone runs between $20 and $25 even before R&D, engineering, marketing and other costs are factored into the mix.
That's significantly more than the $1.00 licensing fee hardware makers must fork over to Apple to for each device that adds a 30-pin Dock Connector for charging capabilities (or the $4.00 licensing fee for those products which make extended use of the Dock Connector for syncing, transferring music data, and so forth).
Apple reportedly shares device maker's concerns over the high costs of supporting AirPlay and is actively seeking alternative suppliers of AirPlay modules from different sources, according to one person familiar with the matter. The company is already believed to be working with at least one new supplier to bring such an alternative to market, but those familiar with the matter were not at liberty to disclose the identity of that firm.
In the meantime, AirPlay-enabled accessories making their way to market in the short term are likely to be priced around or above the $300 mark, though Philips' $229 Fidelio AD7000W introduced just yesterday at CE Week has stood out as the first AirPlay-enabled speaker system to be priced below $299.