Best Buy suspends MacBook Air orders ahead of refresh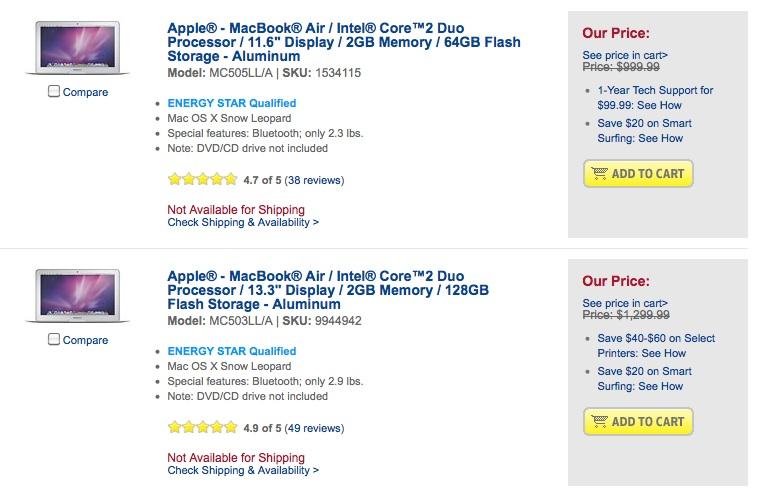 AppleInsider may earn an affiliate commission on purchases made through links on our site.
Retailer Best Buy has put a hold on online MacBook Air orders, providing further evidence that Apple plans to release an updated version of its diminutive laptop.
Best Buy's listings (via MacNN) for the current-generation MacBook Air are now listed as "Not Available for Shipping." Meanwhile, all MacBook Air models on Apple's Online Store remain ready for shipping.
Best Buy continues to offer the portables in its brick-and-mortar retail stores, though some locations have reportedly run out of stock. In the U.K., the big-box retailer allows orders for a MacBook Air with 128GB of storage, but only with in-store pickup at certain locations.
Apple is expected to refresh the MacBook Air line with Intel's Sandy Bridge processors and the addition of the Thunderbolt port. However, people familiar with the matter have told AppleInsider that Apple is waiting until it can load a Gold Master build of Mac OS X Lion onto the notebooks before releasing them.
Mac OS X Lion is due for release on the Mac App Store in July. As a major upgrade to Apple's flagship desktop OS, Lion will include more than 250 new features such as full screen apps, additional multi-touch gestures and Mission Control.
AppleInsider also reported earlier this month that Apple's initial orders for the refreshed MacBook Airs, which were scheduled to begin production this month, were roughly 400,000 units. A recent report corroborated the targeted July release for MacBook Airs, though it also dubiously suggested shipments of the new laptop would reach "eight million MacBook Airs in the third quarter."
Earlier this month, Apple executive Phil Schiller remarked that the MacBook Air has been a key driver of the company's outpacing of the PC market. "It's beautiful, it's thin, it's light, it's fast," Schiller said during the Worldwide Developers Conference keynote. "The whole PC industry wants to copy it."

Apple CEO Steve Jobs pronounced the MacBook Air the "future of notebooks" last October during the current iteration's unveiling at the "Back to the Mac" event. According to Jobs, the Mac maker took features from the iPad, such as "solid state storage, instant-on, amazing battery standby time, miniaturization and lightweight construction," and translated them to the MacBook Air.