Amazon Cloud Drive challenging Apple's iCloud with unlimited music storage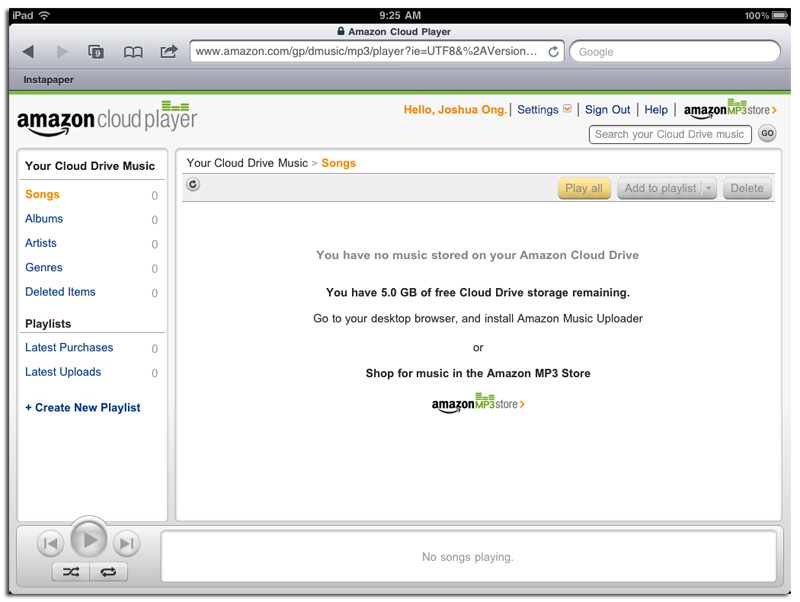 AppleInsider is supported by its audience and may earn commission as an Amazon Associate and affiliate partner on qualifying purchases. These affiliate partnerships do not influence our editorial content.
Amazon announced Wednesday a promotion offering unlimited music storage to users who purchase a Cloud Drive storage plan, heating up competition before Apple's fall launch of its iCloud and iTunes Match services.
The online retailer revealed three enhancements to its Cloud Drive and Cloud Player services in a statement Wednesday: storage plans that include unlimited space for music, free storage for all Amazon MP3 purchases and an iPad version of Cloud Player for Web.
"Customers are already enjoying Cloud Drive and Cloud Player and now for just $20 a year, customers can get unlimited space for music," said Craig Pape, Director of Amazon Music. "Additionally, we are adding free storage for all MP3s purchased from Amazon MP3, and support for the iPad. Our customers love Cloud Drive and Cloud Player and we're excited to innovate these services on their behalf."
The unlimited music storage applies to all premium Cloud Drive accounts, which start at $20 a year for 20GB. Users who qualified for 20GB of free storage from an earlier promotion will automatically receive the unlimited space for music. Amazon offers 5GB of free space to all Cloud Drive users.
The addition of an iPad-friendly Amazon Cloud Player is a step back in Apple's direction, though no mention is made of iPhone or iPod touch compatibility. Cloud Player originally launched for the Web and Google's Android mobile OS, without direct support for iOS and Mobile Safari. In May, iOS users reported being able to access the Cloud Player, despite the fact that full compatibility had yet to be officially announced.
Whereas only new Amazon MP3 store purchases were automatically added to Cloud Drive when the service first launched in March, now all digital music purchased from Amazon will be added to the drive. The retroactive support for previously purchased music appears to indicate that Amazon has resolved any conflicts with the music industry of its service.
Apple is planning a similar move with its iCloud service, and offered the first taste of its cloud strategy last month with the release of iTunes 10.3, which allows re-downloading of music, apps and books purchased on iTunes and the App Store. When iCloud arrives in the fall, the service will provide complimentary storage of music, apps and books purchased from Apple. However, unlike Amazon's Cloud Drive, iCloud does not stream music.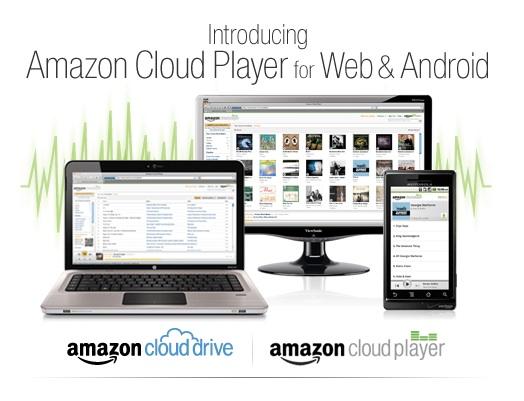 Amazon reportedly opted for an 'ask forgiveness, not permission' strategy with Cloud Drive, surprising music labels with the announcement of the service. Music industry sources said Amazon only addressed the issue of negotiating licenses after launching the service, leaving some industry members to view the service as illegal.
Google launched a beta of its own music service in May. However, the search giant was unsuccessful in negotiating new licenses with major music labels and has yet to open a full music store as originally planned.
Amazon and Apple will likely compete for subscribers with their respective Cloud Drive and iTunes Match services. Amazon's cloud offerings require manual uploading of non-Amazon music files, but also offer streaming, and start at a lower price of $20 a year. On the other hand, iTunes Match costs $25 a year and will scan and match users' iTunes libraries with songs available in the iTunes Music Store. Matched songs will then automatically be available for download in iCloud, and the small portion of unmatched musical will be uploaded. Like Amazon, Apple will offer 5GB of free storage for iCloud users.