First taste of Apple's iCloud available with iTunes 10.3, iOS App Store [ux2]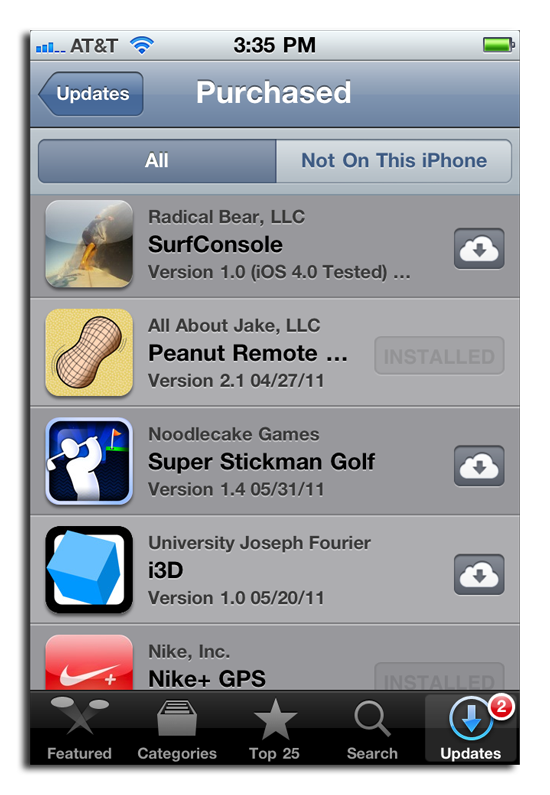 AppleInsider is supported by its audience and may earn commission as an Amazon Associate and affiliate partner on qualifying purchases. These affiliate partnerships do not influence our editorial content.
Just moments after Apple announced its new iCloud service, the company's iOS App Store and iTunes Store were dynamically updated with a new "Purchased" tab for re-downloading software and content, and iTunes 10.3 was released for Mac and PC.
Updated: Apple's iTunes 10.3 download link is now working.
The iTunes 10.3 beta can now be downloaded direct from Apple. Content purchased can now be re-downloaded on any device — including Mac, PC and iOS — at no cost.
The new iTunes also includes the iBookstore for Mac and PC, allowing for "an unabridged browsing and shopping experience."
Users can also find "Purchased" software in the iOS App Store by selecting the "Updates" tab. From there, in addition to available updates, the "Purchased" section can also be viewed.
The new feature offers a thorough list of all software that has been purchased on the authorized Apple ID signed in on the iOS device. A convenient "Not On this iPhone" tab also allows users to only view applications that are owned, but not currently installed.
Similarly, purchased songs can also be viewed in the iOS iTunes Store application. Content that has been purchased from the iTunes Store can be sorted by artist name, in a list of recent purchases, or a complete list of songs.
All content is presented with a cloud icon, connecting the new functionality with the just-announced iCloud service. While Monday's quick updates offer a taste of iCloud, the full service — including wireless syncing of content and data — will roll out with the launch of iOS 5 this fall.
The functionality of "iTunes in the Cloud" can also be extended to music ripped from a personal CD collection with Apple's newly announced iTunes Match, available for $24.99 per year. The new service will match up a user's personal library of songs with the 18 million high-quality tracks available on the iTunes Store, and that content can also be re-downloaded to multiple devices, like an iPhone or iPad.