Apple reflecting dramatic improvements in iPad 2 availability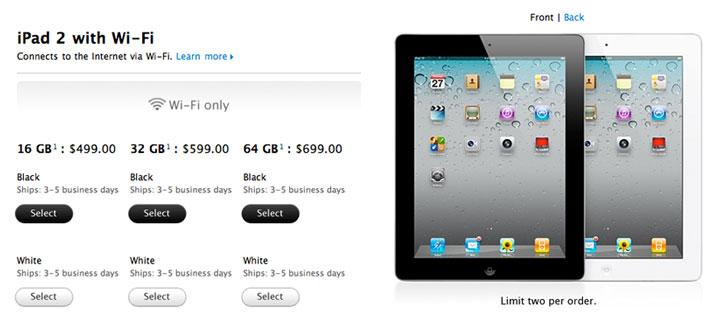 AppleInsider may earn an affiliate commission on purchases made through links on our site.
For the first time since its launch in early March, customers in the market for a new iPad 2 can order it direct from Apple and have it shipped to their doorstep in a week or less, the company disclosed on its online store Thursday.
Between Wednesday evening and Thursday morning, lead times for the market-leading tablet device dropped to just 3-5 days from 1-2 weeks on the Cupertino-based company's online store. That's a marked improvement from overwhelming backlog of 4-5 weeks customers saw during the iPad 2's first month on the market.
Ironically, the improvements in availability come in the face of a report from DigiTimes, which claimed Thursday Apple's share of the tablet market in June slipped to 50% from its average of 60-70% due to supply shortages.
Alongside the U.S., shipping times for the tablet also improved through Apple's direct international sales channels, however the company still has a hill to climb before the device enters into a true supply and demand balance.
Spot shortages of the iPad 2 remain throughout the company's indirect sales channels and Apple continues to impose a strict limit of 2 units per customer through all of its online shops.
In addition to sheer demand, Apple has faced several challenges in ramping production of its new tablet. The device launched just days before Japan's natural disaster, which shut down operations at several of the company's component suppliers.
But even with a steady supply of the parts needed, building iPad 2's has been incredibly challenging for Apple's manufacturing partner Foxconn, Chairman Terry Gou said at a recent investor meeting.
As such, the contract electronics assembler's profits have lagged behind those of Apple because the devices are "very difficult to make," he said, adding that his company is continuously learning ways to make the products more efficiently.
Foxconn recently implemented measures to assemble iPads more efficiently, the benefits of which are expect to further improved availability of the devices during 'the second half of this year and next year.'
As it stands, build plans coming into Foxconn for the third calendar quarter of 2011 suggest the manufacturer has been commissioned to build anywhere between 14 and 15 million iPad 2 units over the next three months.