Overwhelming iPad 2 demand continues, Apple's online orders now ship in 4-5 weeks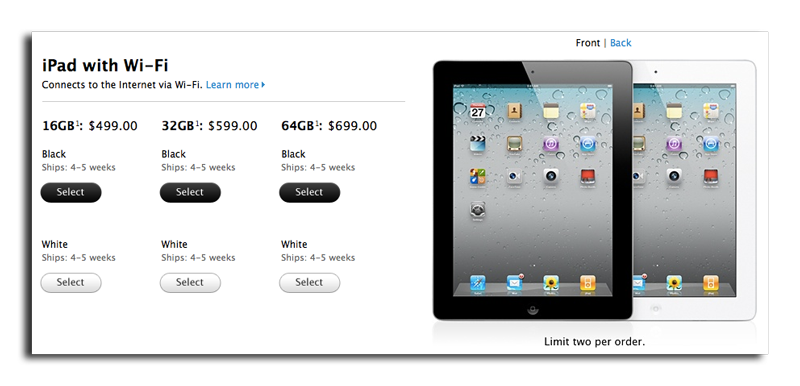 AppleInsider may earn an affiliate commission on purchases made through links on our site.
Apple on Tuesday was forced again to delay estimated shipping times for new iPad 2 orders, as those who buy must now wait four to five weeks for their order to be sent.
Yet another delay comes as stock of the iPad 2 around the U.S. is believed to be entirely sold out at all locations, including Apple's retail stores and partners. Some select Apple stores with new shipments of the iPad 2 are set to open early today, while many other stores await more stock in the face of crushing demand.
The latest delay applies to all models of the iPad 2, including Wi-Fi and both 3G models from AT&T and Verizon. It also includes all capacities: 16GB, 32GB and 64GB.
"Demand for the next generation iPad 2 has been amazing," Apple said in a statement to the press this week. "We are working hard to get iPad 2 into the hands of every customer who wants one as quickly as possible."
Tuesday's need to push back estimated shipping times is the latest in a string of delays since the iPad 2 first went on sale in the U.S. last Friday. Initial orders were scheduled to ship in a matter of days, but the wait was quickly pushed back to between two and three weeks.
On Saturday, Apple was forced to extend estimates to three to four weeks. Now, customers who hesitated to buy could be waiting over a month to receive their iPad 2.
Wall Street analysts generally expect that Apple sold at least a half million of the iPad 2 in its first weekend of availability. More bullish estimates have forecast Apple to have sold as many as 1 million at launch.