Online iPad 2 orders from Apple estimated to ship in 2-3 weeks [u]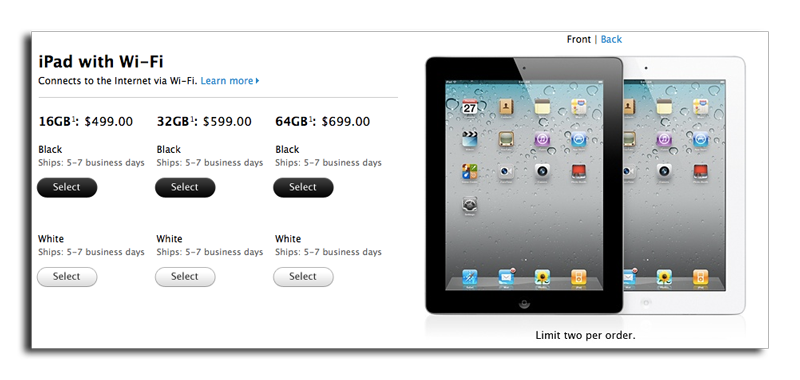 Apple on Friday began accepting orders online for the iPad 2, and the first buyers were told to expect the tablet to ship within two to three weeks [updated].
While initial orders were said to ship in two to three days, that quickly was pushed back to a wait of up to a week. But as of later Friday morning, models of the iPad 2, in all capacities and colors, in both the Wi-Fi model and 3G options from AT&T and Verizon now ship in two to three weeks. Apple began taking orders at 1 a.m. Pacific, 4 a.m. Eastern.
Those who don't want to wait for delivery will have the ability to buy an iPad 2 in person at 5 p.m. local time at all 236 Apple retail stores in the U.S. Retail availability of the iPad 2 has also been greatly expanded for launch versus the first-generation tablet, and buyers will also be able to find the device at AT&T, Best Buy, Target, Verizon Wireless and Walmart, as well as select Apple Authorized Resellers.
As with last year, purchases of the iPad 2 are limited to two per customer. And if the launch of the first iPad is any indication, customers who hesitate to order could see their purchase ship even later than the current estimates.
iPad 2 with Wi-Fi carries a suggested retail price of $499 for the 16GB model, $599 for the 32GB model, $699 for the 64GB model. iPad 2 with Wi-Fi + 3G wis $629 for the 16GB model, $729 for the 32GB model and $829 for the 64GB model.
The new iPad 2 is one-third thinner than the first-generation model, just 8.8mm thick, even thinner than the iPhone 4. At just 1.3 pounds, it is lighter than the previous 1.5 pound iPad.
The new iPad also has rear and front facing cameras for recording video, taking photos, and FaceTime video chat. iPad 2 also packs the new A5 dual-core processor, which offers up to 9 times faster graphics processing with the same power consumption as last year's model.
While the iPad 2 is launching in the U.S. only on Friday, it will be available in Australia, Austria, Belgium, Canada, Czech Republic, Denmark, Finland, France, Germany, Greece, Hungary, Iceland, Ireland, Italy, Japan, Luxembourg, Mexico, Netherlands, New Zealand, Norway, Poland, Portugal, Spain, Sweden, Switzerland and the UK on March 25; and in many more countries around the world in the coming months. Further international availability and pricing will be announced by Apple at a later date.