Wall Street: Apple earnings 'nothing short of a blowout' after record quarter [u]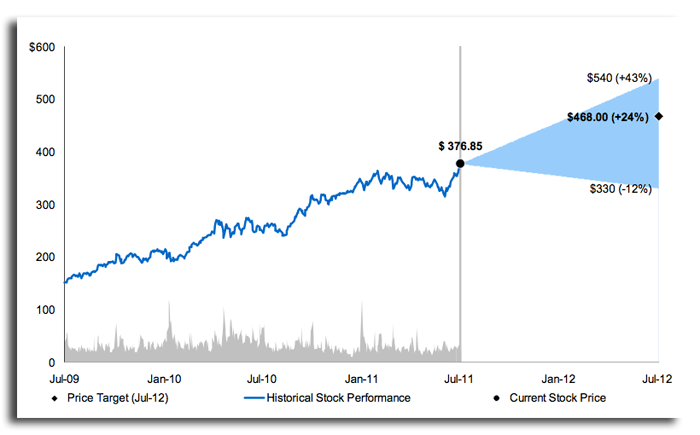 AppleInsider may earn an affiliate commission on purchases made through links on our site.
Wall Street analysts were stunned by Apple's record quarterly earnings on Tuesday, noting that there seems to be no end in sight for the company's "upside parade."
Apple CEO Steve Jobs revealed on Tuesday that the company had just finished its "best quarter ever," as profits surged 125 percent to $7.31 billion on record quarterly sales of $28.57 billion. The Cupertino, Calif., company sold a record 20.34 million iPhones and 9.25 million iPads.
The Wall Street consensus had stood at $24.99 billion in revenue and $5.85 earnings per share. By comparison, Apple posted a massive $7.79 EPS.
In a note to clients on Tuesday, analyst Brian White responded to Apple's quarterly results with an emphatic "WOW!," noting that Ticonderoga Securities remains "aggressive buyers" of Apple at current levels. Shares of Apple are at an all-time high, having briefly burst through the $400 mark during after-hours trading following the results.
"Apple [delivered] nothing short of a blowout performance," said White, who believes the current "leg up in the stock price" could lift shares 100 points and ultimately push the stock up to the firm's previously estimated $612 price target. In light of Apple's impressive results, the firm's estimates and price target are currently under review.
The analyst highlighted a strong upside to the company's gross margin of 41.7 percent, which was well above the firm's estimate of 38.7 percent and better than last quarter's 41.4 percent margin. Apple's operating margin of 32.8 percent was also an improvement, up from 31.9 percent in the second quarter of fiscal 2011.
Apple's iPhone sales of 20.34 million handily surged past White's estimates of 17.53 million units, while iPad sales of 9.25 million beat his 8.5 million projection. Mac sales, however, did not enjoy the same levels of astronomical growth as the iPhone and iPad did, with sales of 3.95 million units narrowly missing the analyst's 3.98 million projection.
White commented that Apple's ultra-conservative outlook for the fourth quarter of fiscal 2011 came in "typical Apple fashion." He sees the company benefitting strongly from seasonality in the second half of 2011, namely back to school and holiday seasons.
"We continue to believe Apple holds the hottest hand in the tech world that is driving market share expansion and high rates of profitable growth," White said. "We believe no company in the tech world is better positioned to benefit from seasonal second-half strength this year than Apple."
Mike Abramsky of RBC Capital Markets noted Tuesday that Apple's results were a "massive beat" with blowout iPhone and iPad sales and better-than-expected gross margins.
He commented that Apple's conservative EPS outlook was "deeper than normal," as it came in 15 percent below street expectations, compared to the typical 6 percent. The analyst attributed the abnormally conservative estimates to possible "timing and channel inventory transitions" for upcoming products, such as the iPhone 5 and the iPad 3.
Abramsky cautioned that that the lower estimates could "cause some debate," but noted that the numbers are no unprecedented. For example, Apple guided EPS for the third quarter of fiscal 2010 17 percent below street.
According to the analyst, pending product launches are the main reason for Apple's lower guidance, rather than a downshift in gross margins. As such, Abramsky believes that investors are likely to overlook the "soft Q4 guidance" given the company's record performance in the June quarter and the anticipation of product launches.
"The massive power of AAPL's beat may offset any debate around the guide," he said, adding that positive commentary on the company's conference call will help to reassure investors. In spite of the conservative guidance, the analyst expects Apple's stock to react positively.
Abramsky attributed the iPhone's performance, which surpassed his expectations, to "resilient sell-through ahead of iPhone 5 launch, international momentum, and domestic share gains."
Update: Added additional analyst commentary:
Morgan Stanley's Katy Huberty said Apple beat expectations with a triple play of the iPhone, iPad and margins. She believes shares of Apple will continue to climb, adjusting her price target to $468, up from $428 last month.
Apple trounced the firm's estimate of 16.5 million iPhones and 7.3 million iPads and beat her gross margin estimate by 2.5 percent. But, sales of Macs and iPods missed its estimates by 6 percent and 8 percent.
Huberty noted that the key debate over Apple's financials is over the company's next quarter guidance. "Our view is that management guidance does not incorporate upside from the new iPhone and lower priced iPhone 4/3GS that we think are likely to be announced in September," she said.
The analyst viewed Apple COO Tim Cook's remarks on Tuesday's conference call as evidence that the company plans to introduce a smaller iPhone for the pre-paid market.
"On today's conference call, management noted that the iPhone growth focus has been and will continue to be in developing markets, like China, where pre-paid Smartphones are the majority of the market," Huberty wrote in a note to clients. "Management understands that it must offer pre-paid phones and has more work to do on this front."
Analyst Mark Moskowitz called Apple's results "a ridiculously big June quarter beat" and raised his December 2012 price target from $450 to $525. "There appears no end to the upside parade," he said, adding that the company's results should restore the "wow factor" to its stock.
He also reiterated his position that the jump in shipments of the iPad 2 should ease investor concerns of supply constraints. The analyst also pointed out that Apple's Mac results outperformed a weakened PC market by a factor of five.
Moskowitz saw little to be concerned about in Apple's conservative guidance, noting that investors should build positions now, as "there will be no pullback in the stock." The firm revised its estimates to position "position Apple as the breakout star in large cap tech."
J.P. Morgan now sees Apple posting $29.628 billion in revenue and $7.15 earnings per share in the September quarter.
Analyst Gene Munster raised his price target from $554 to $607, pointing out that Apple beat Wall Street estimates by 16 percent more than "a typical Apple beat." The company has beat estimates for 21 consecutive quarters.
He recommends investors buy shares of Apple because "the news flow should turn progressively more positive" in the second half of 2011. "We see the following catalysts approaching in the Sept. quarter: OSX Lion, iOS 5 and iCloud launches, new MacBook Airs, the next gen iPhone launch with new carriers (possibly Sprint and T-Mobile), and new iPods," he wrote.
In the December quarter, Munster sees optimism around holiday iPad sales and talk of an Apple Television, which he expects in late 2012, to boost Apple shares. He also highlighted continued growth from emerging markets such as China as a catalyst.
Munster believes Apple will probably ship a next-generation iPhone in September, possibly on Sprint and T-Mobile. Adding the two other major wireless carriers in the U.S. would increase the company's potential stateside subscriber base by roughly 30 percent and could help it sustain its phenomenal growth levels.